#sims3challenge #sims3legacy #sims3story #thesims3
While I was cleaning up the pee on the floor, I got a call from Caitlin. She wanted me to know just how much having baby Shonna brought her and Peanut back together.

It was pretty smug really. Everyone knows that Peanut is a scumbag. I'm pretty sure the baby didn't change that.So, back to my life.
I slept the most restful sleep I've had since I learned I was pregnant. Then I got up before dawn to write up my stakeout report. I couldn't believe how productive I was without the constant woohoo with that hot, shirtless, finely muscled… wait, what?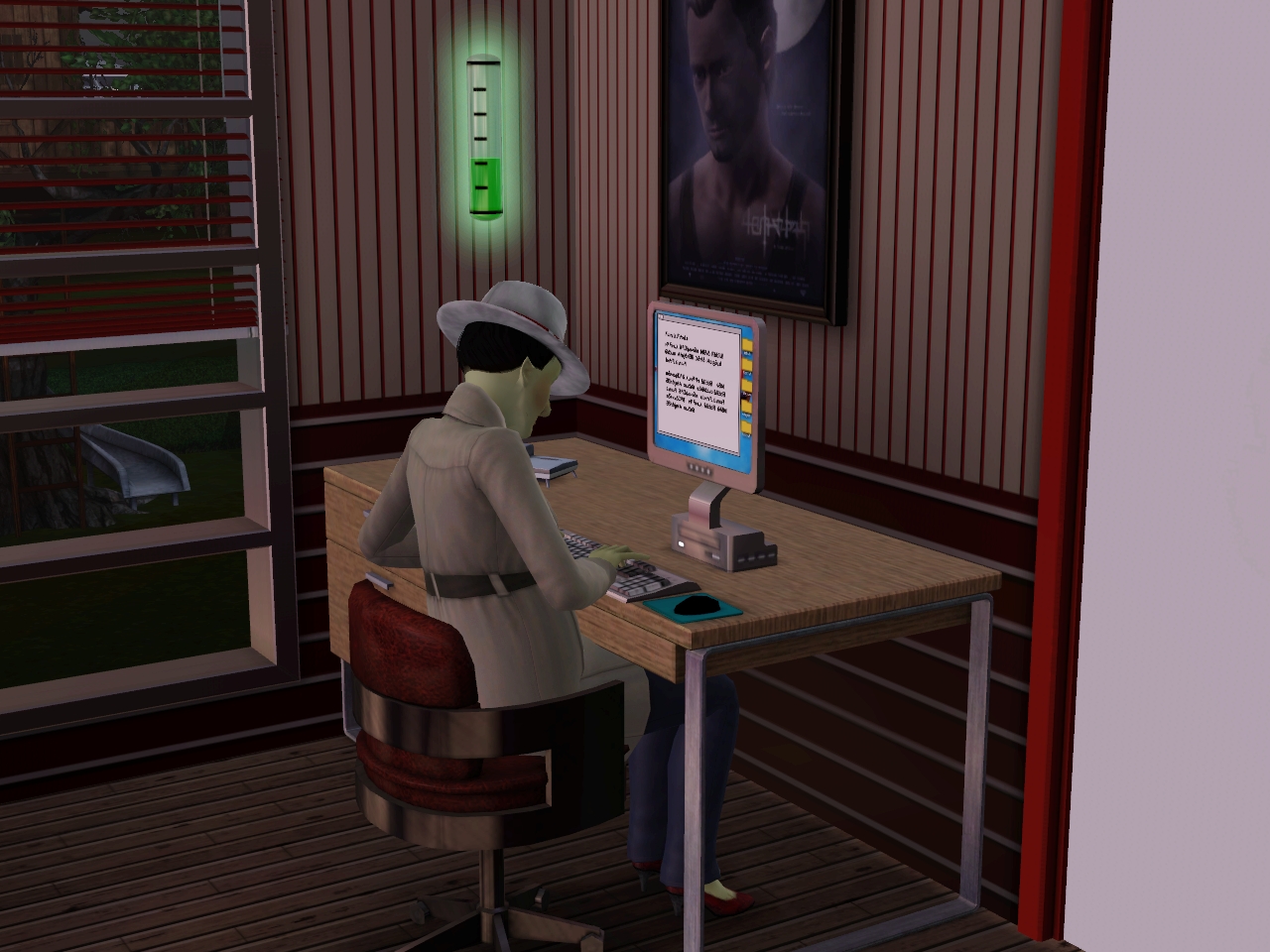 "Do you think you might have been a little bit, um, hasty?" Bungle asked.
"Quiet," I snapped. "I know what I'm doing."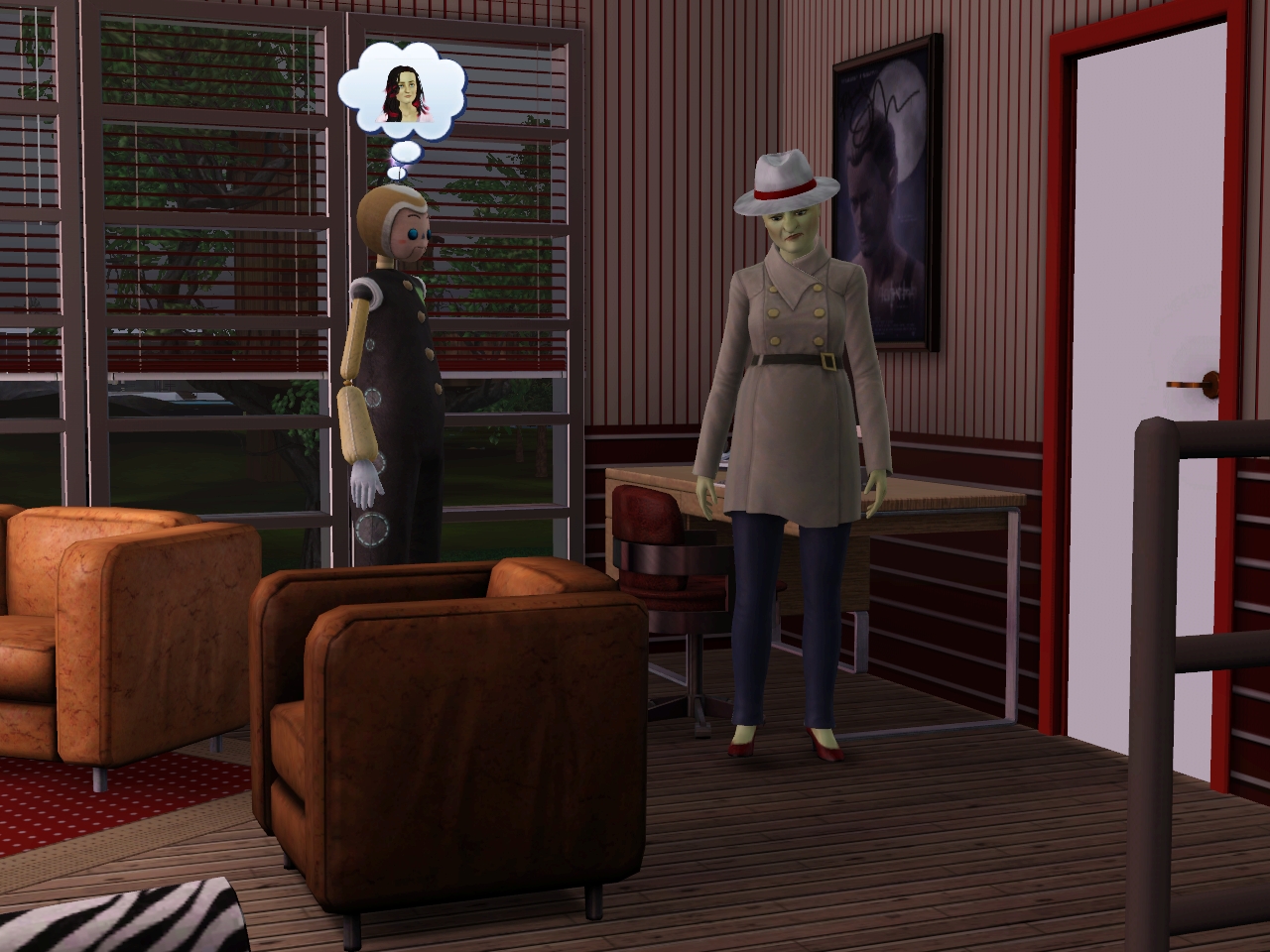 I went downstairs to fix the dishwasher. Everybody knows that it's safer to fix electrical appliances while you're pregnant, and I might as well make the best of it.
"Don't stare at me either," I snapped at Bungle.
"Actually, I think I'm gonna hurl," Bungle said. "It stinks down here!"
Everyone's a critic.
I could hear William outside, crying over the garbage.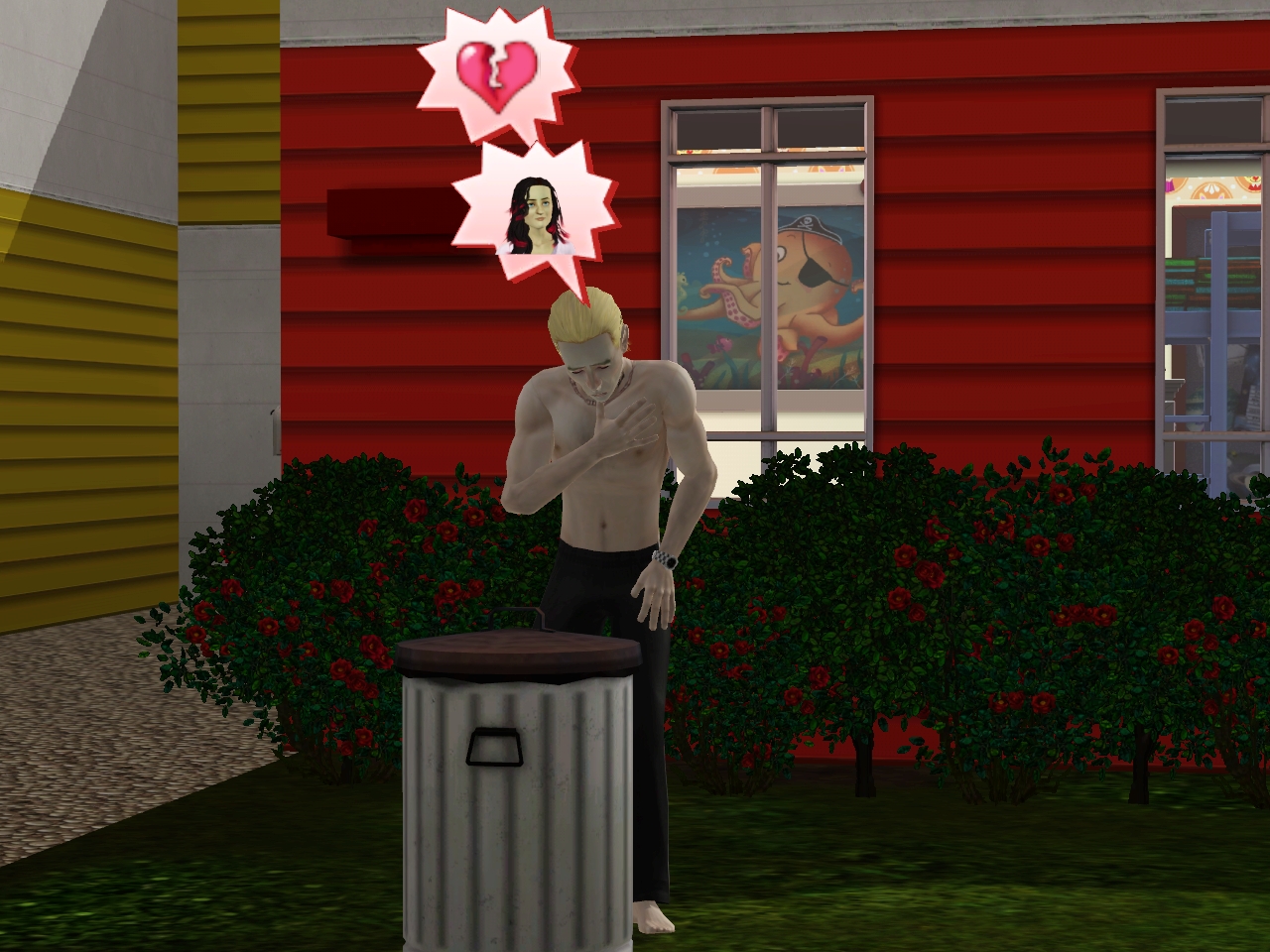 I was not moved. Not moved, I tell you.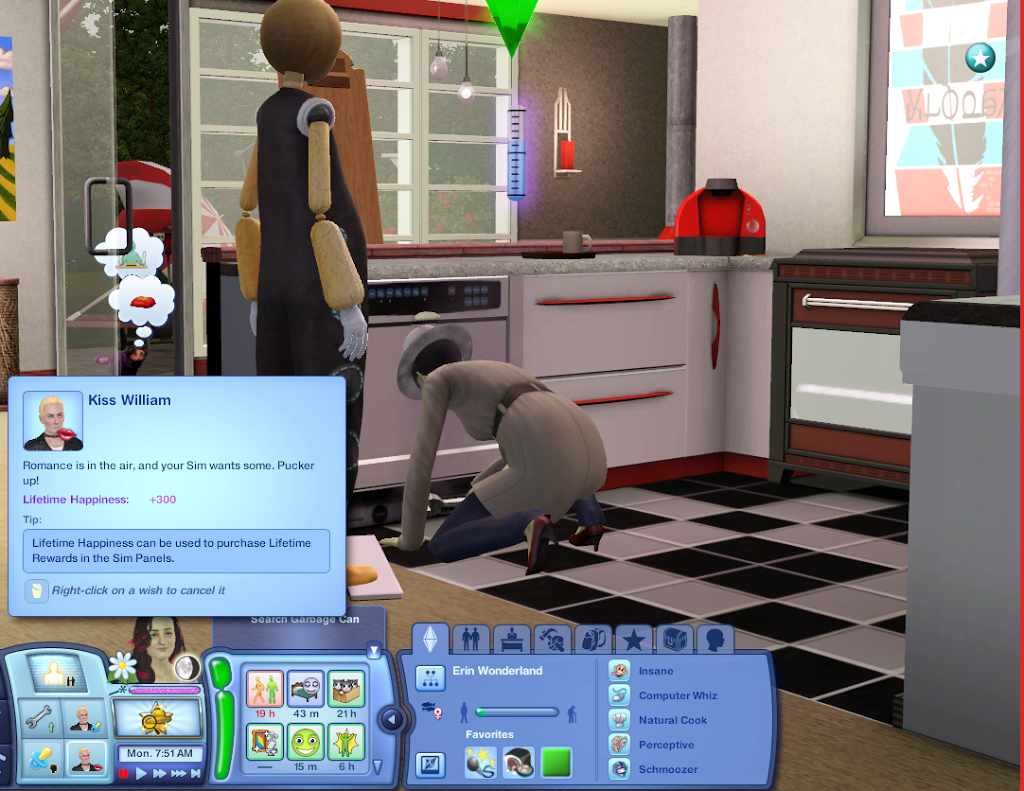 Branden called out and waved as he flew by.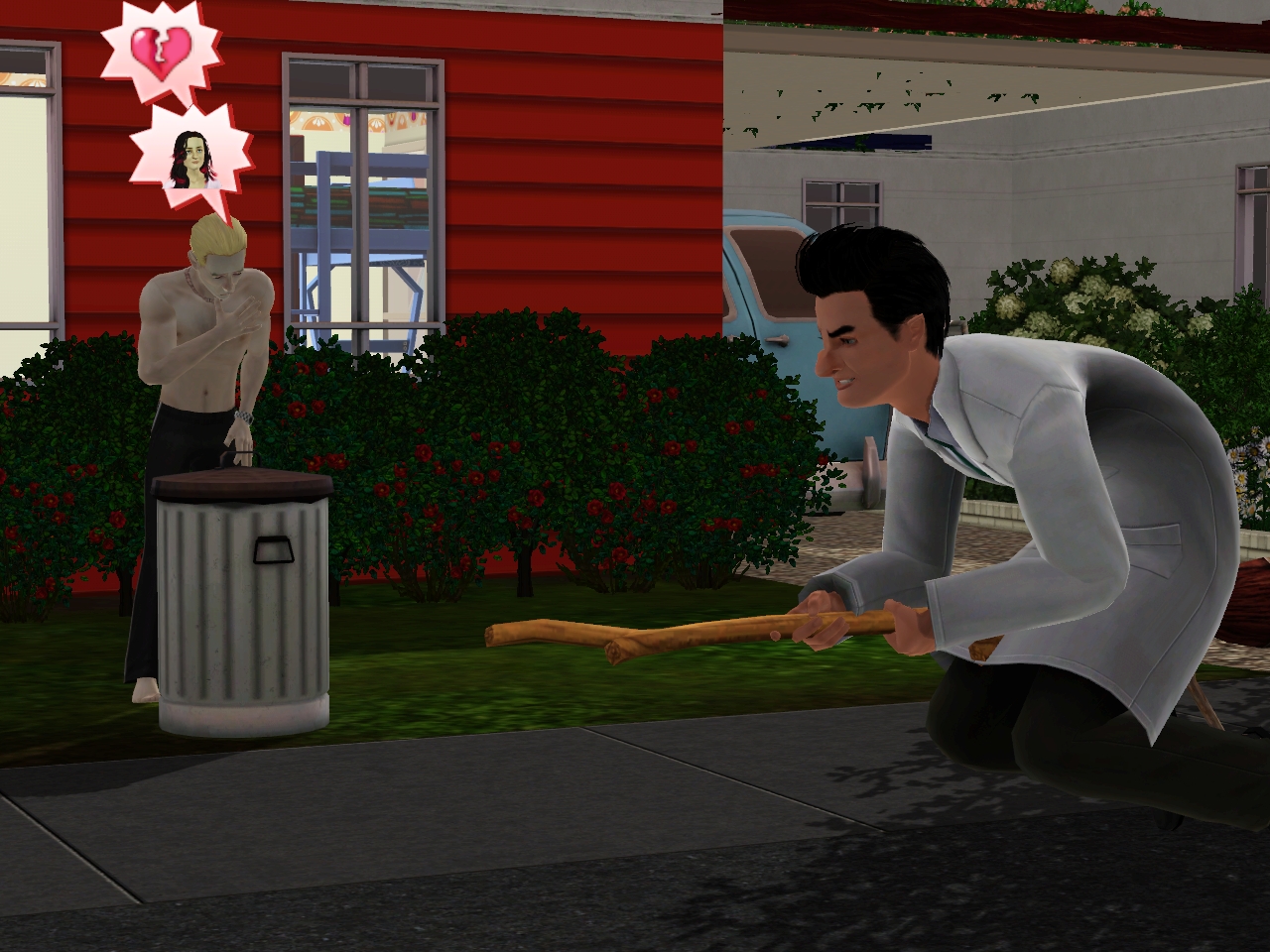 He's a high-profile doctor these days. I'm proud of my big brother.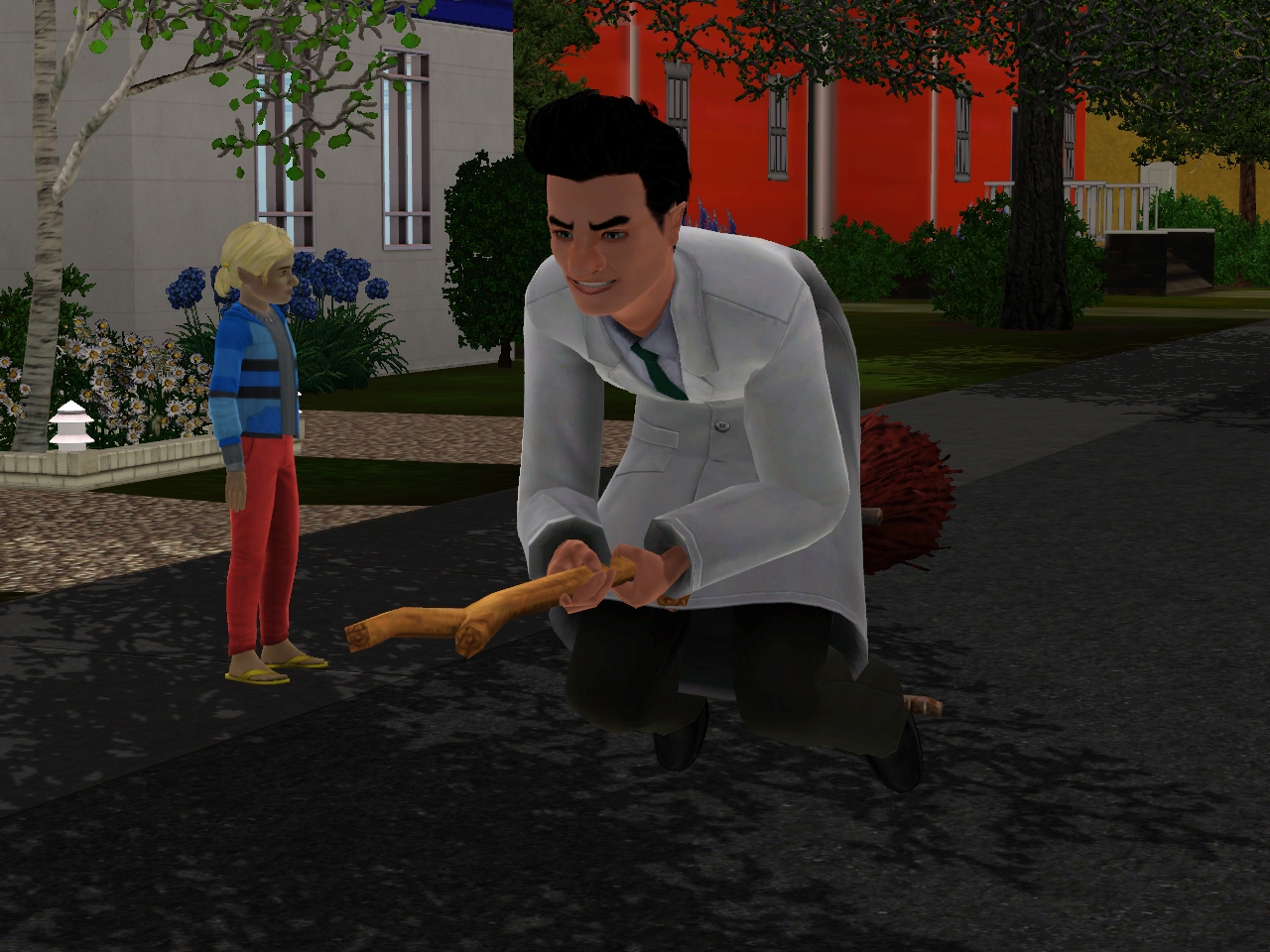 While I was working in the kitchen and William was out crying, the girls were up early to play in the treehouse.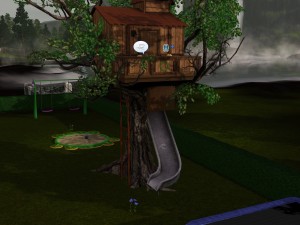 I think they were talking about us.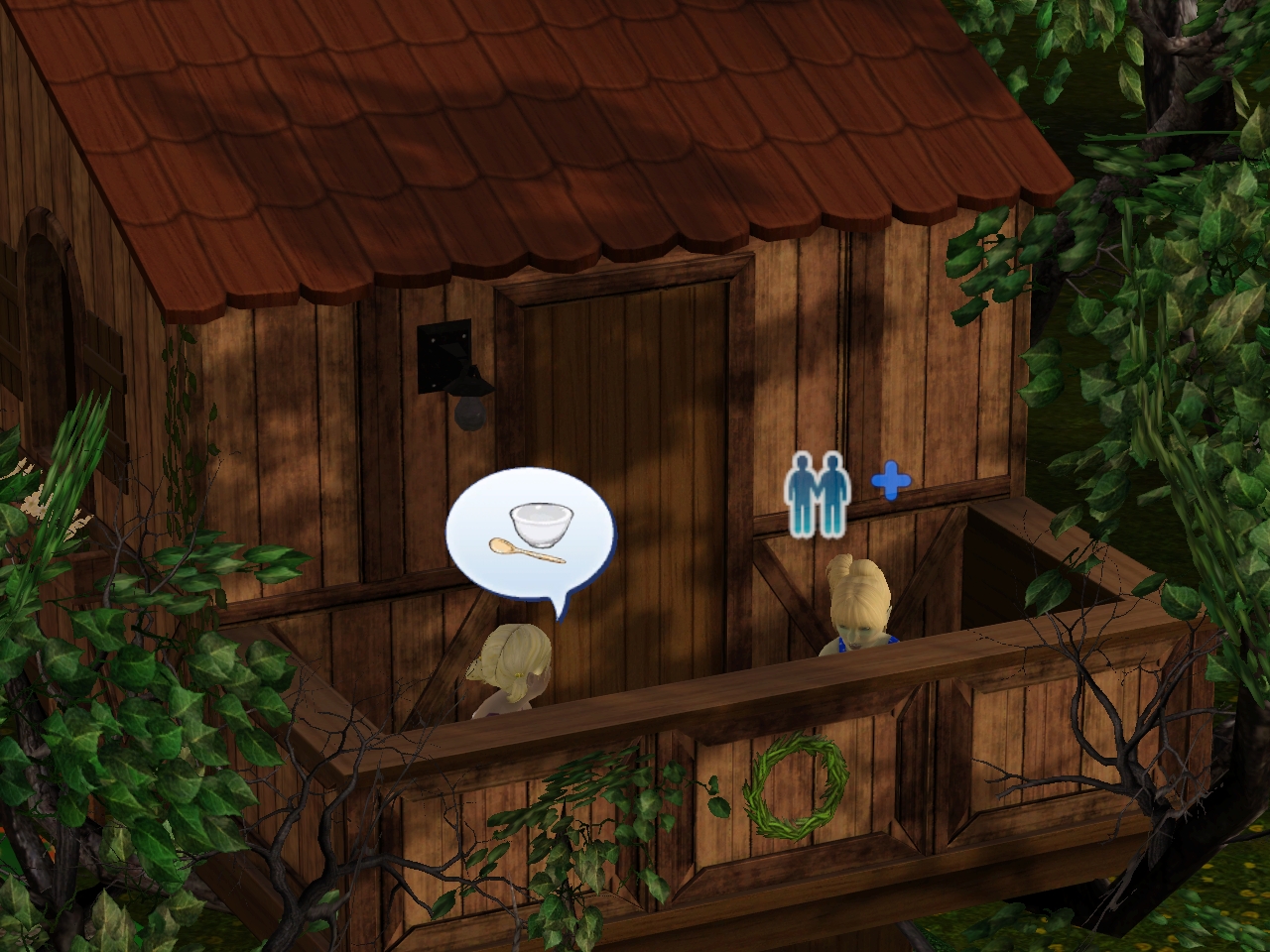 Then Irene came in to get ready for school, and she broke the bathtub. Of course. My work is never done.
Nova started howling. We all raced into the bathroom to see if she was all right.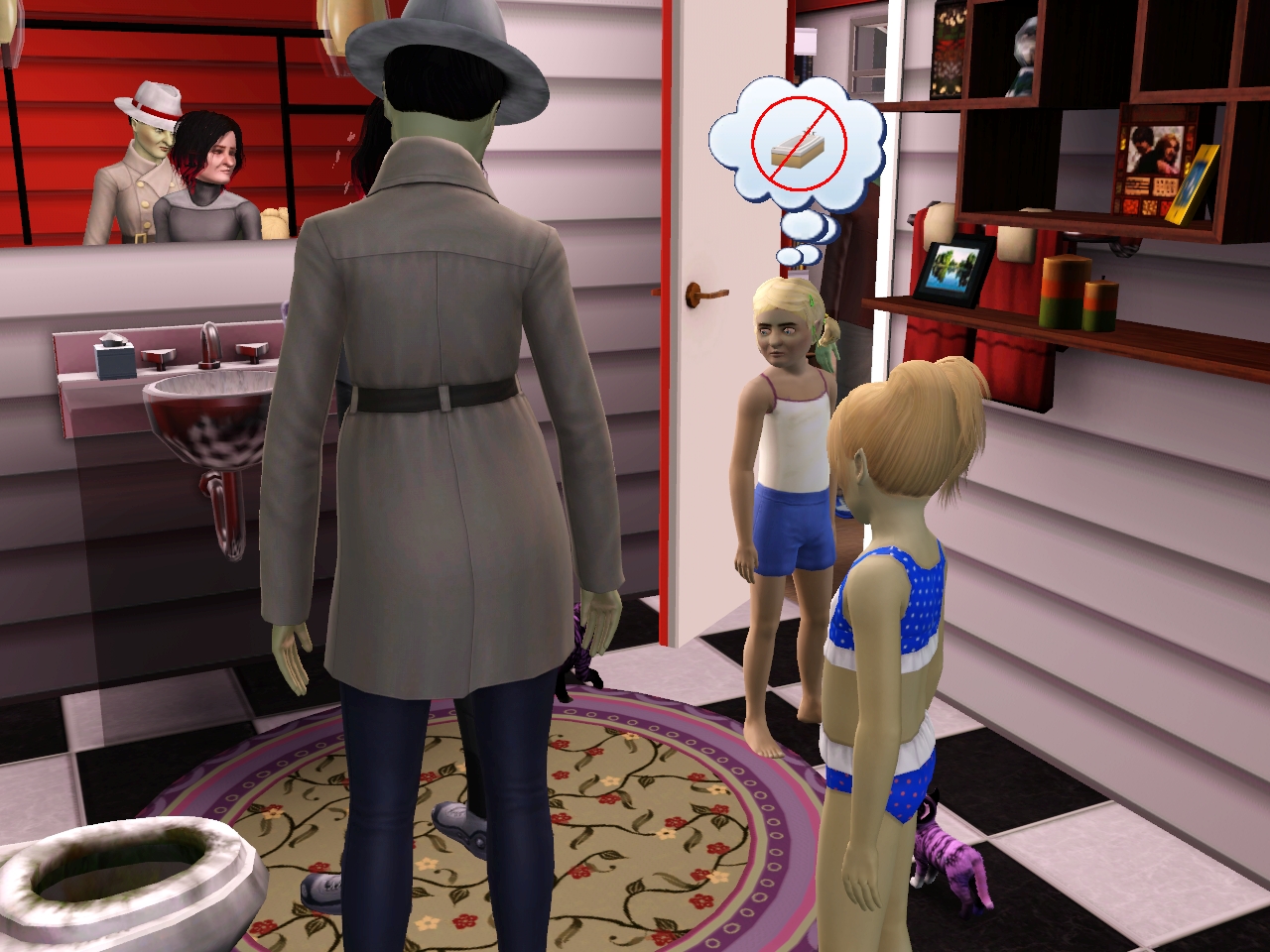 She had kittens! Oh dear. More kittens.
OK, I can't be grumpy all the time. They really are adorable.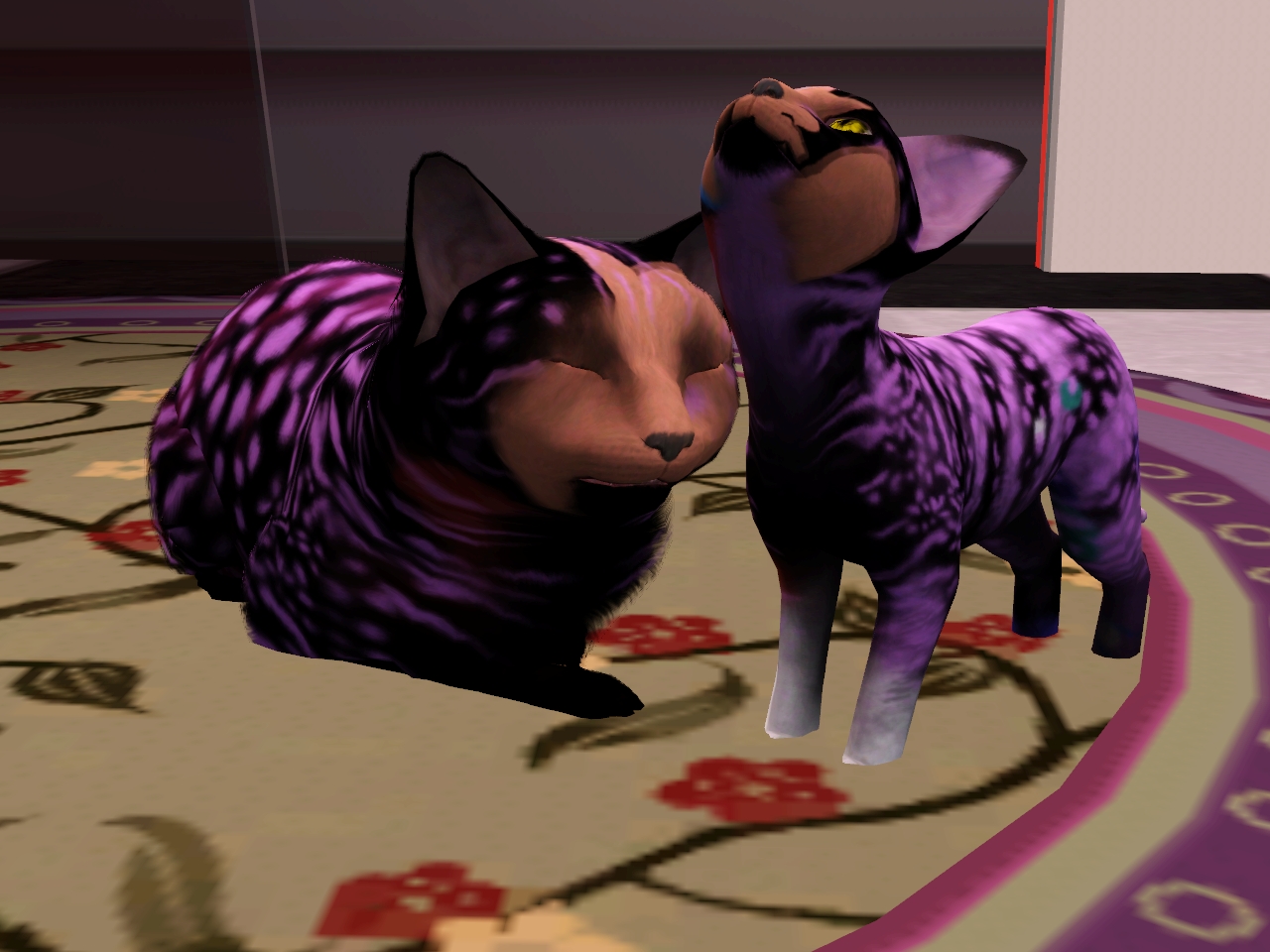 Here's Daisy.
And Goofy.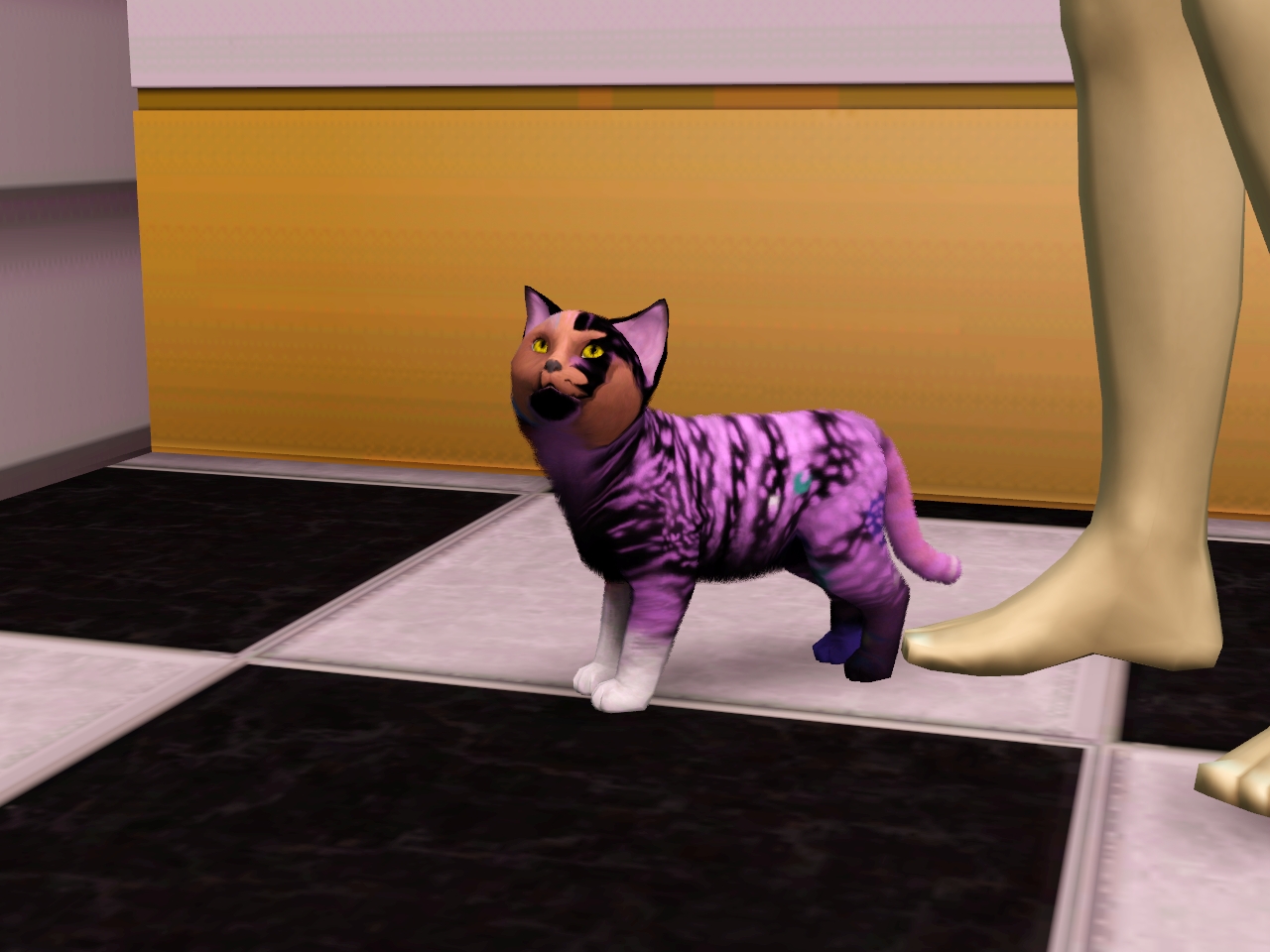 "All right then!" I declared. "Off to school!"
"You really suck, Mom," Irene said as she ran out the door. She was gone by the time I could react. Was that because of William or something else? I get no respect.
William came back in after the children left. "Look," he said, "I don't know what happened between us, but I have nowhere else to go."
Must stay firm. Must not let those puppy dog eyes in that incredibly hot body manipulate me. "I have to leave for a stakeout anyway," I said. "You can stay. It's kind of your house too."
So he got out a canvass and expressed his feelings with paint.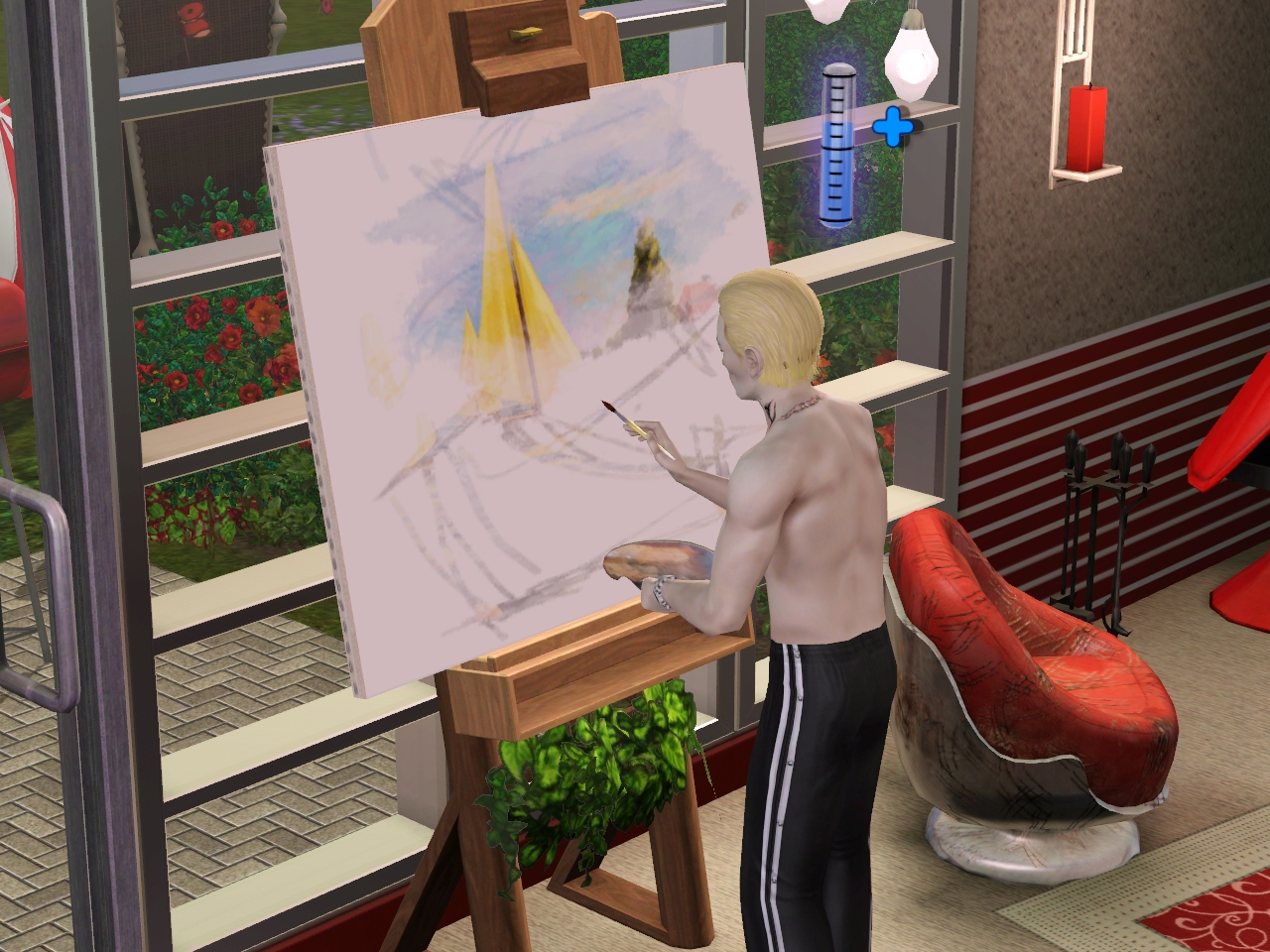 While I was was gone, he had an adoring army of felines to keep him company.
That probably made me feel better.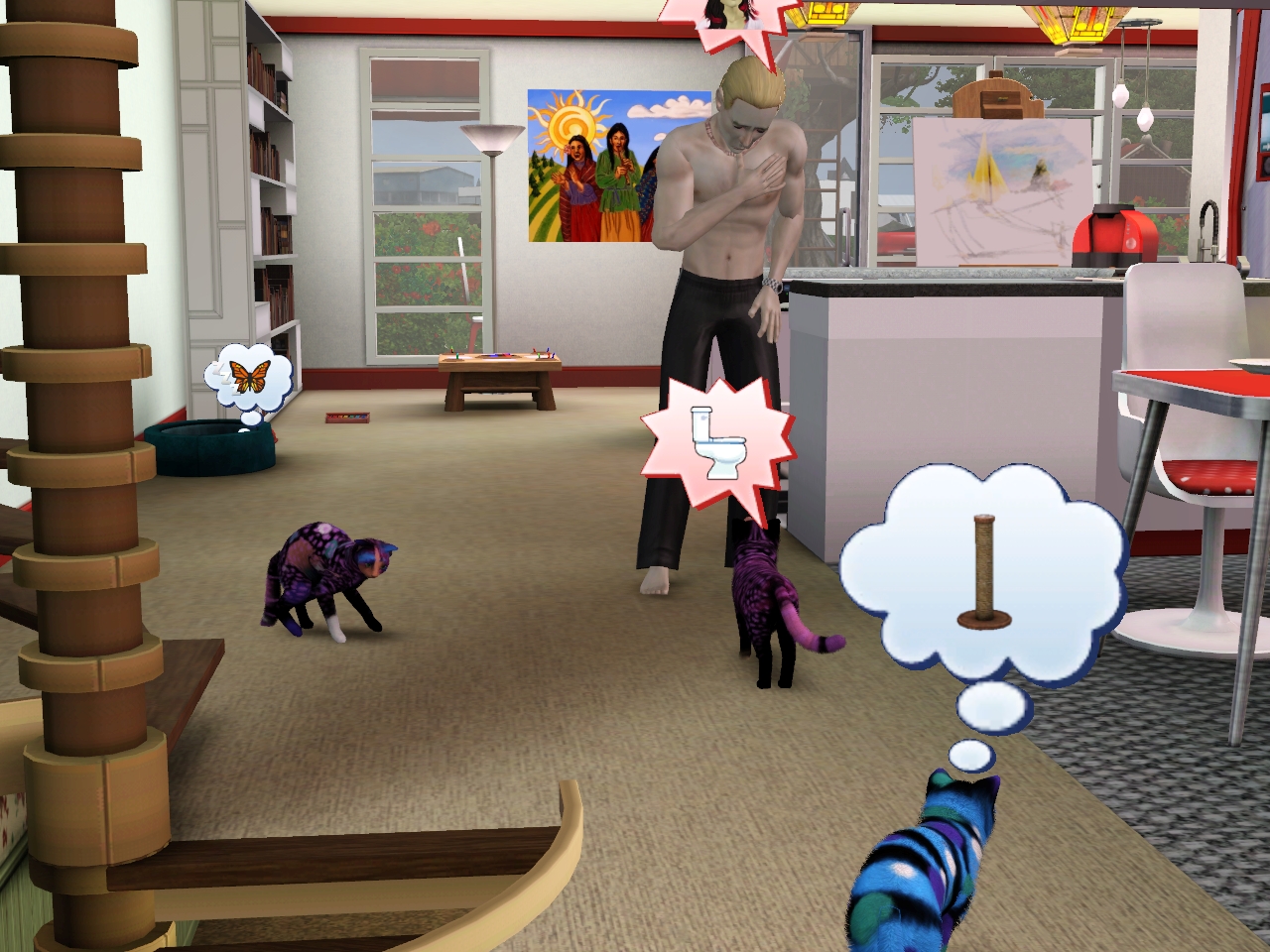 It probably didn't help that Minnie clawed him when he tried to cuddle her.

Here's a poorly-justified cat spam interlude.
Minnie.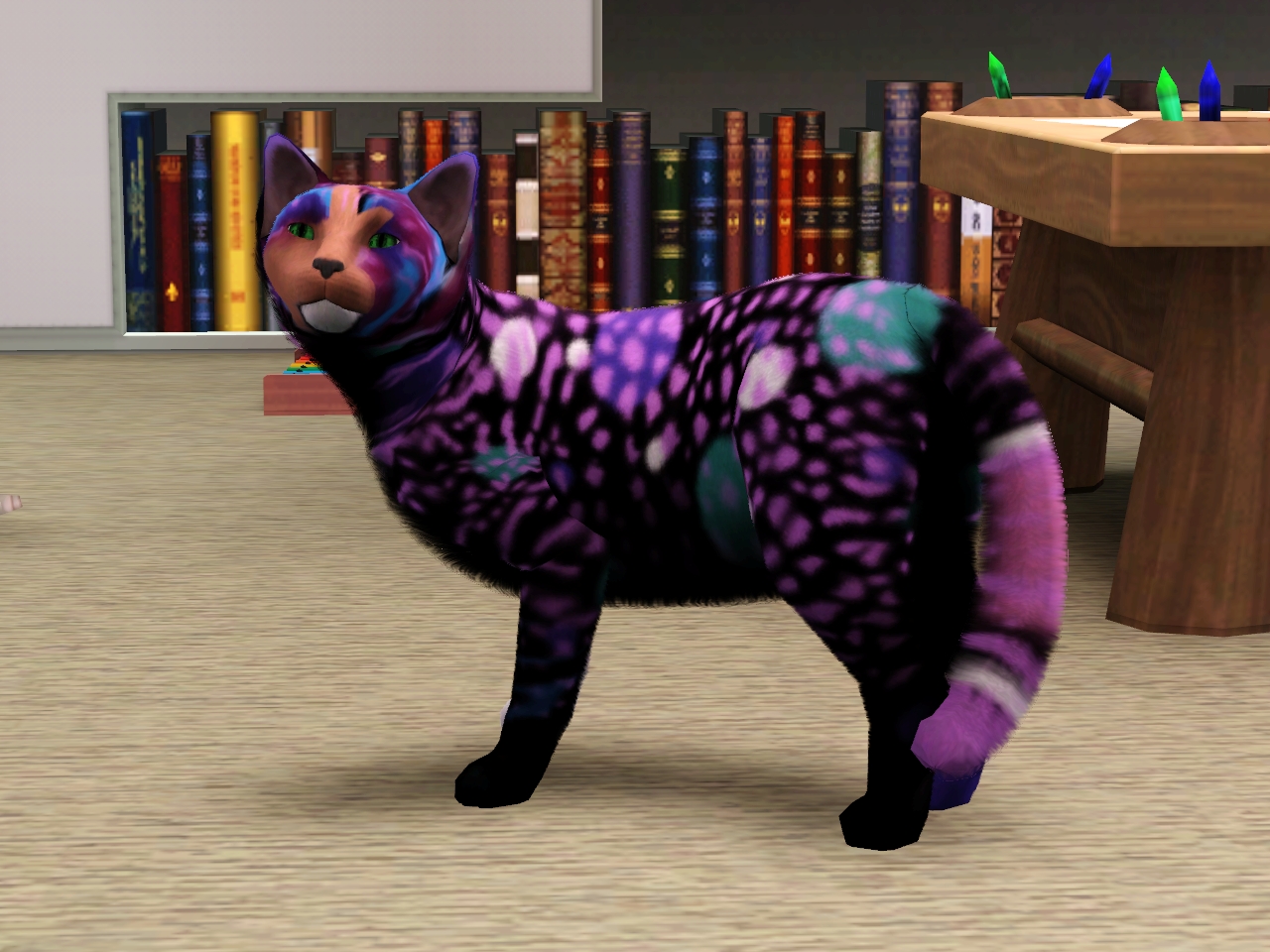 Nova, getting up there in age.
Minnie again.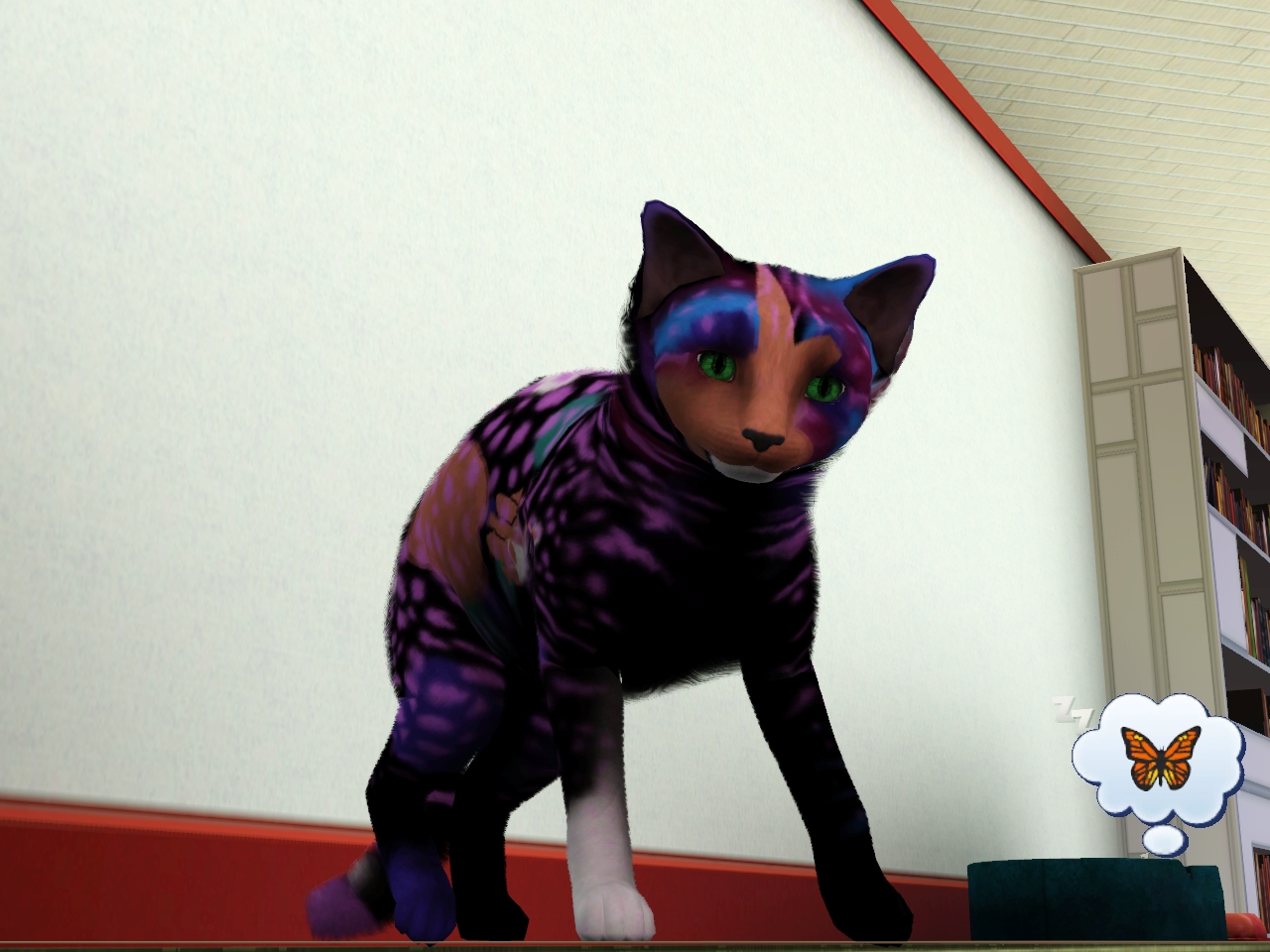 Minnie, Daisy, and Micky from left to right.
Daisy.
I got home from my stakeout.
Mum was haunting the computer to play Football Fever, so I just went to bed early.
It's probably just as well. I hear that things got crowded later.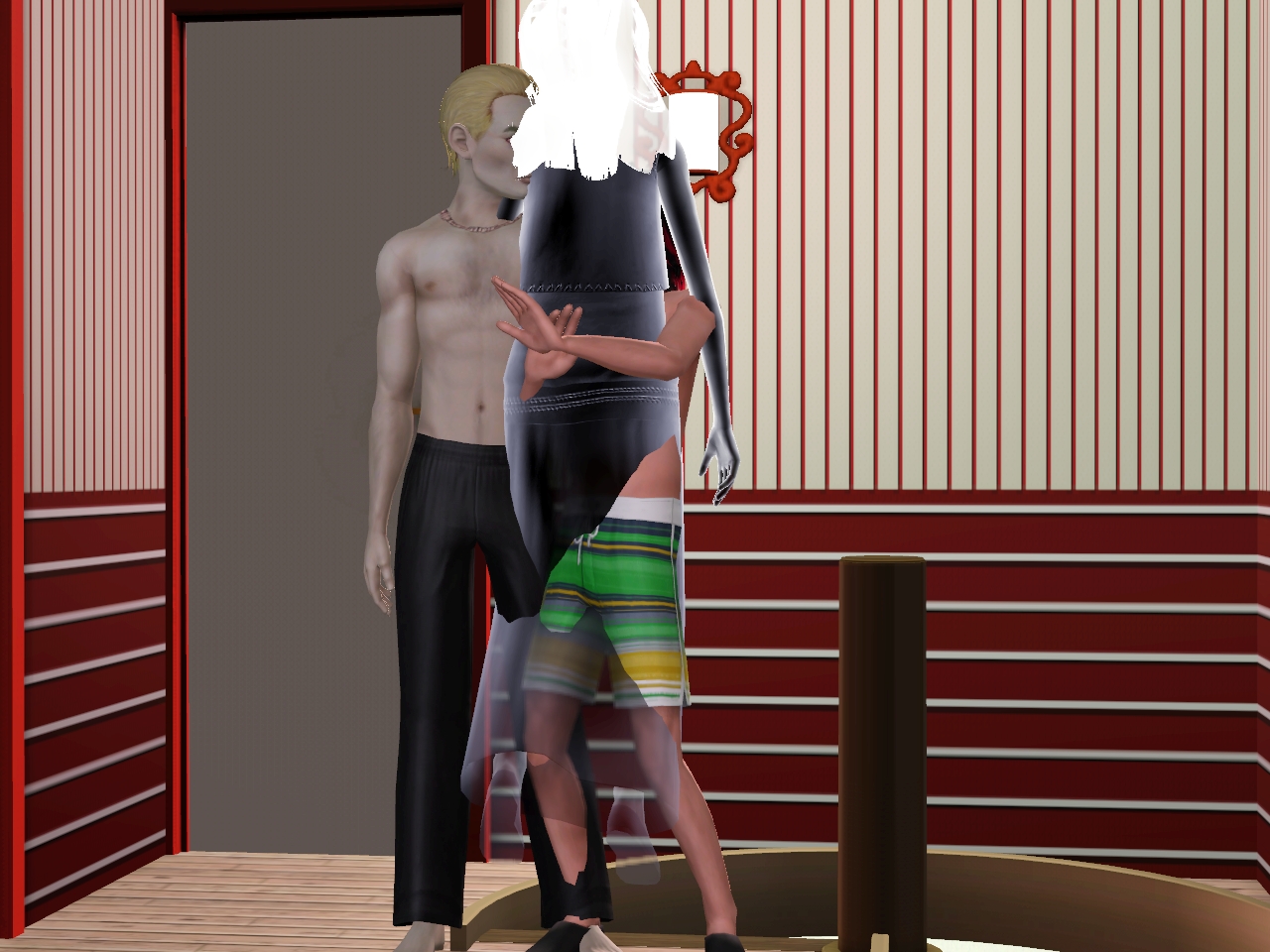 I woke up at dawn feeling like a railroad spike was stabbing through my gut.
"The baby is coming!" I panted to Bungle.
"I can't leave the house," Bungle said. "I can't help!"
I couldn't ask William to help me. I'd just kicked him out of our marriage. So I was on my own.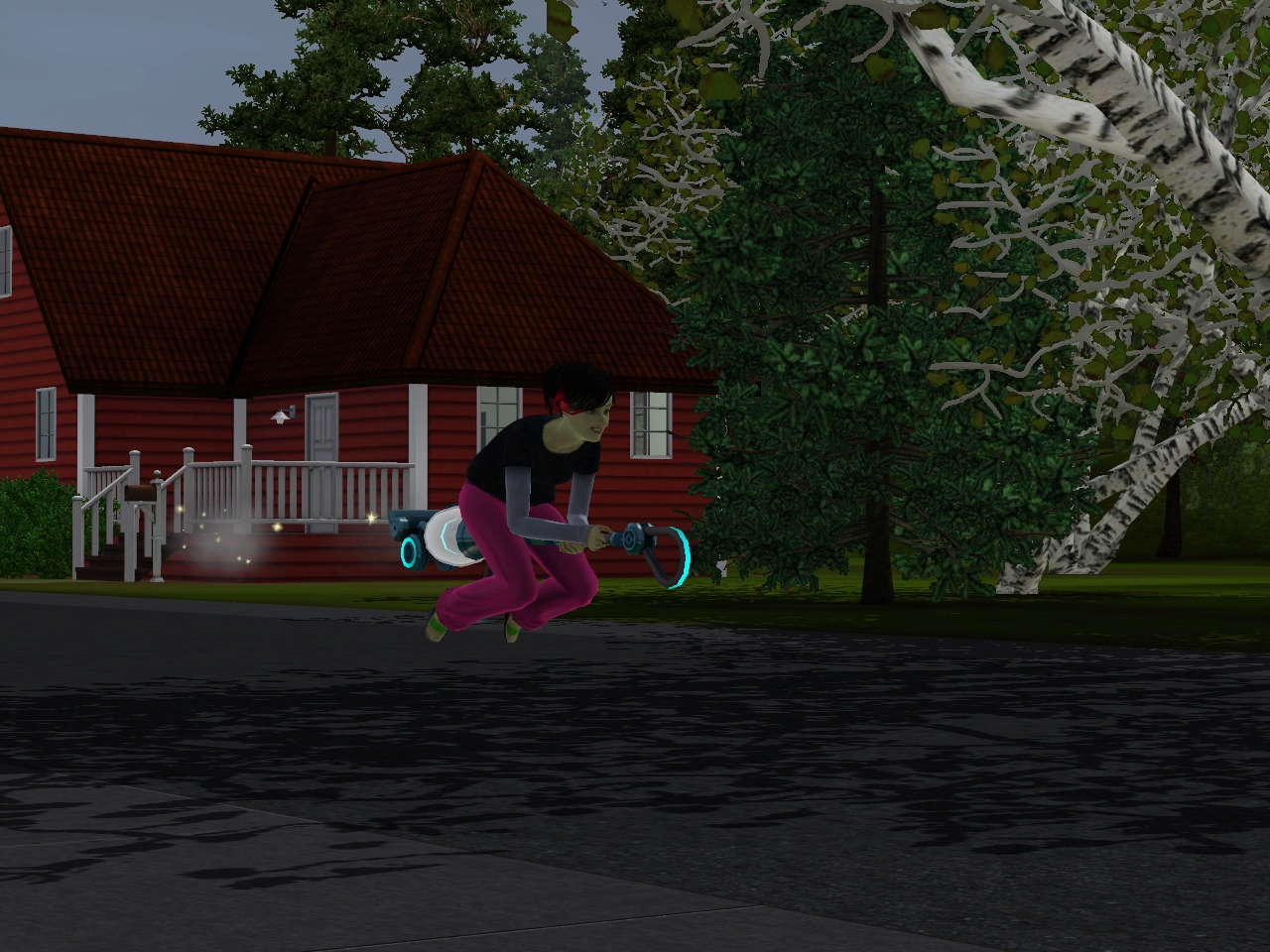 I took myself to the hospital.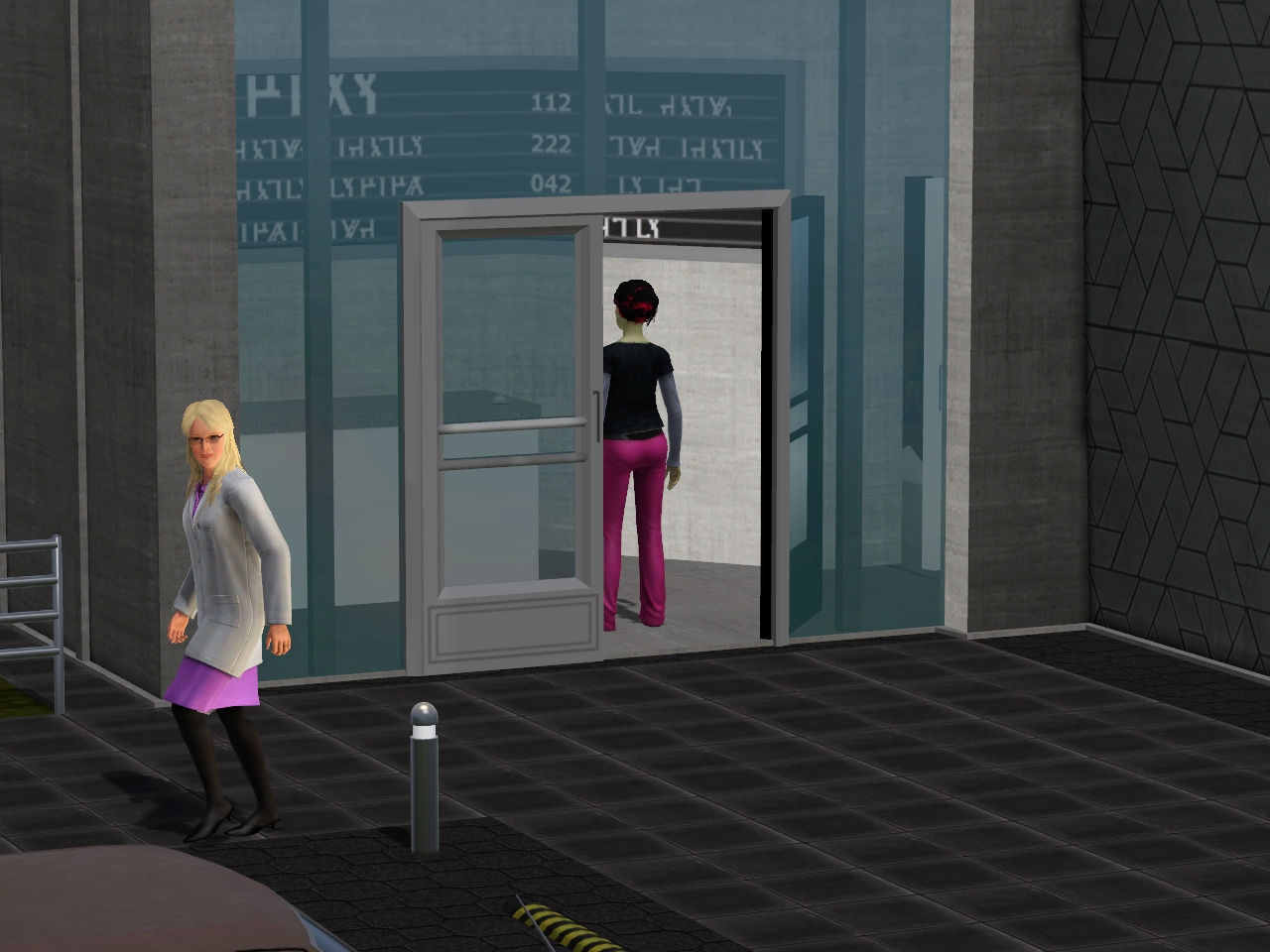 I was there a long time. By myself.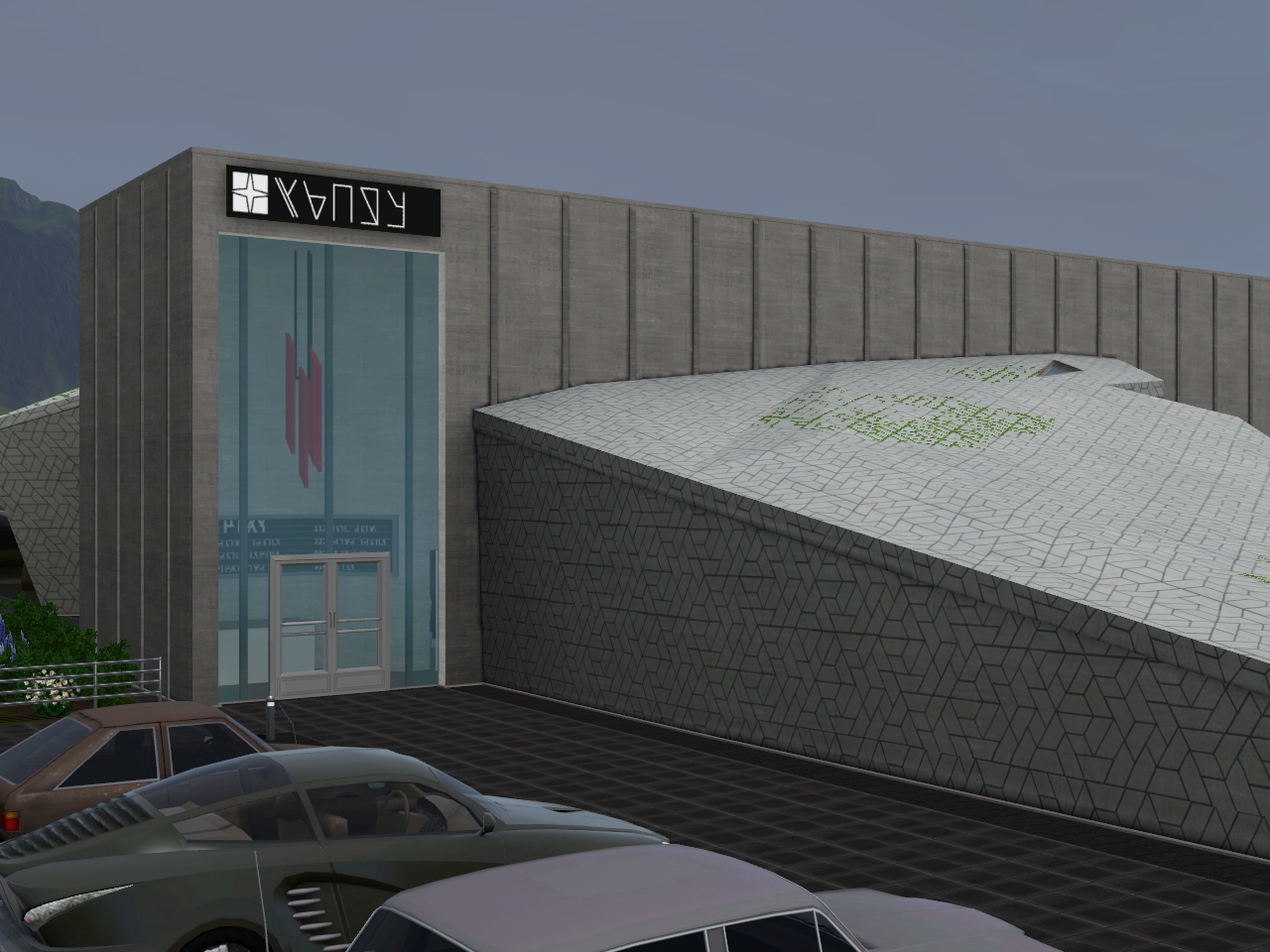 William showed up to find out the news. Branden was just leaving the delivery room.
"Is she all right?" he demanded.
"She's fine," he said. "It's a boy."
A beautiful baby boy. I named him Justin.
Now that the painful part was over and I was looking into the eyes of my new, and final (!) son, everything felt better.
It couldn't be that I was too hard on William, was it? Maybe hormones talking?
William was still waiting when I was discharged. It was good to see him.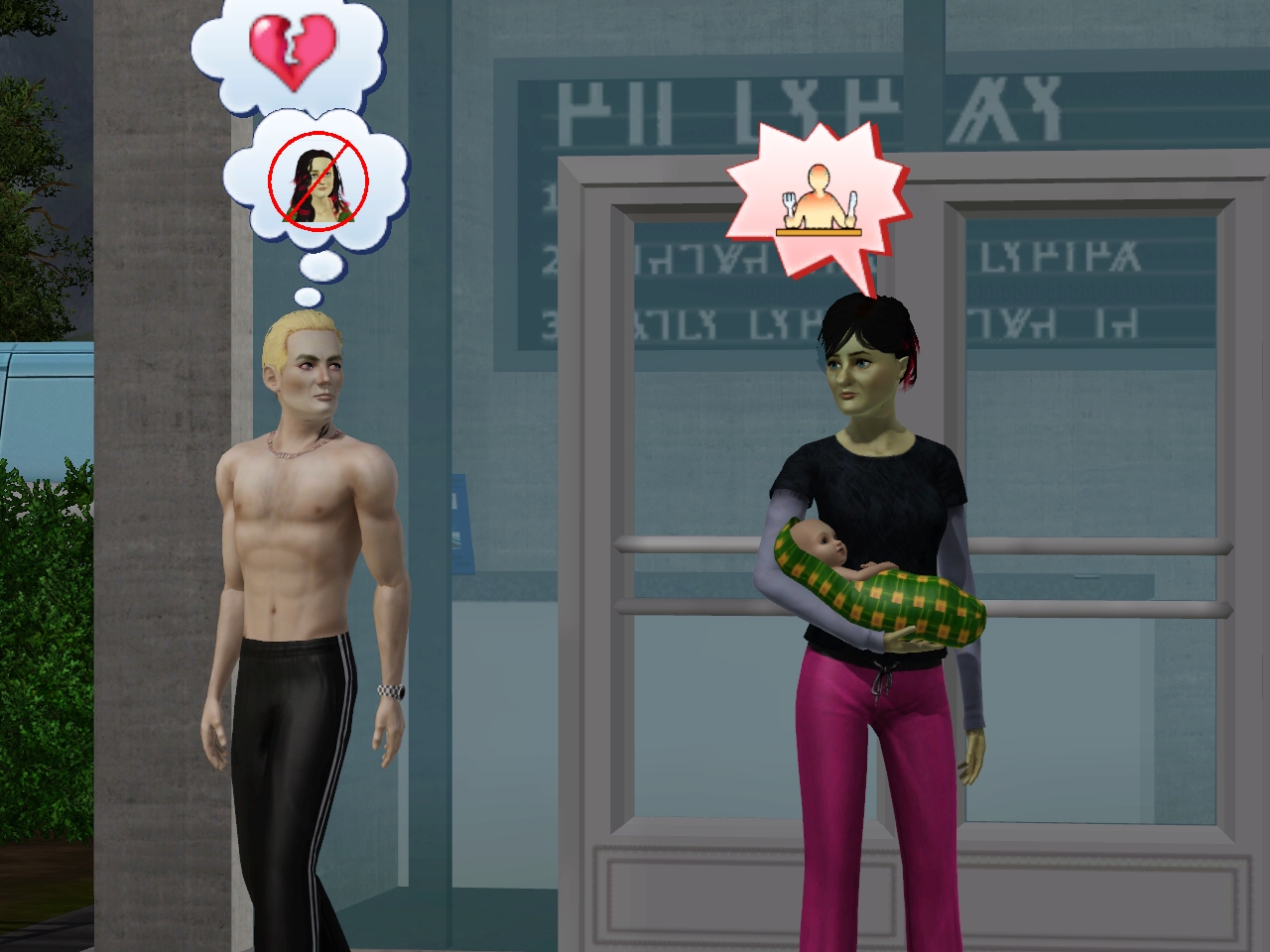 "Hey," I said. "I'm glad you're here."
"I'm just here to see the baby," William said. "He looks great."
"What did you just do with your arm?" I demanded. "Is that even possible."
"Can we talk?" I said. "I might have been a bit hasty when I, you know, broke us up."
"Oh, now you think so?" he said.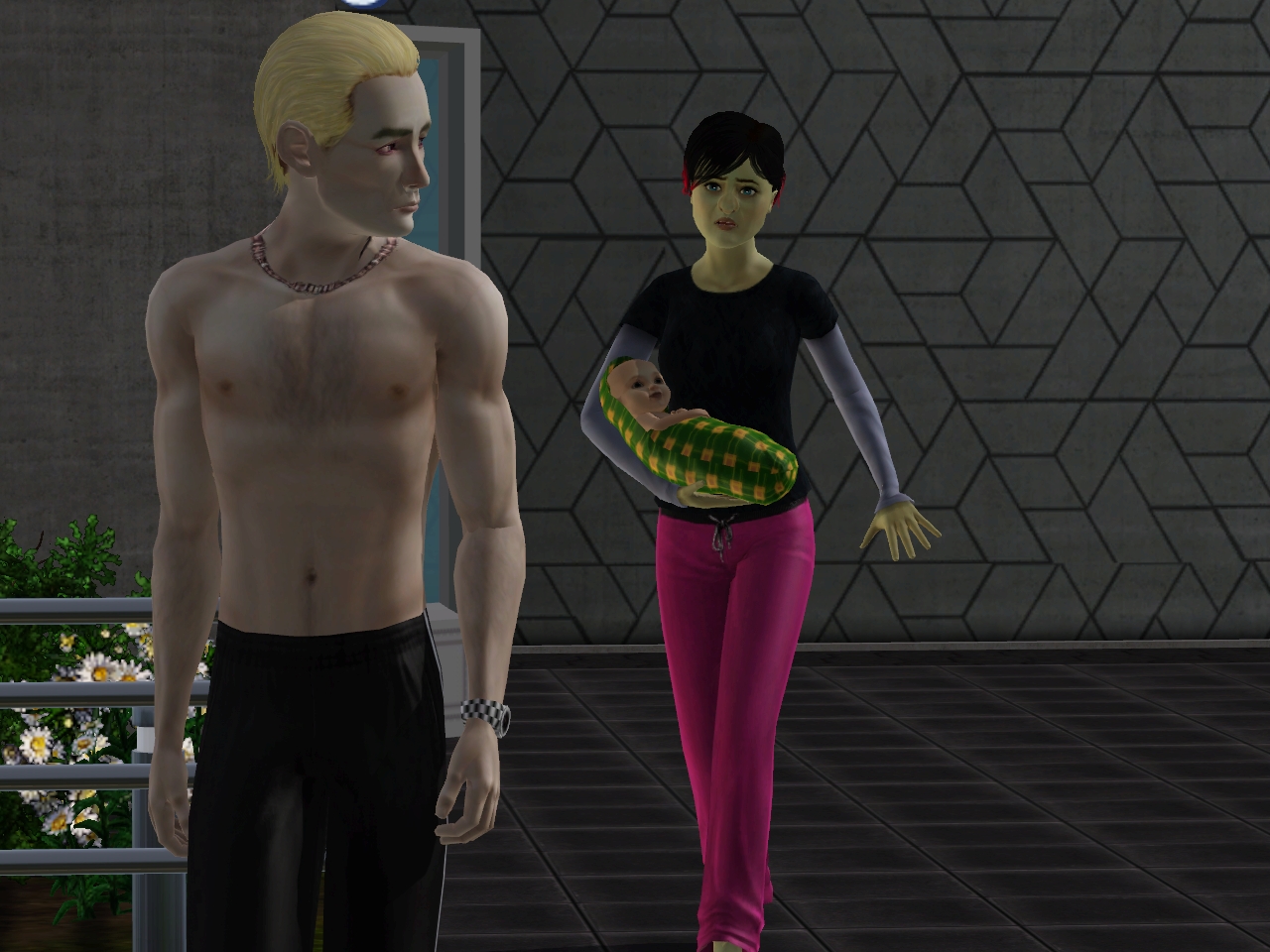 He pulled around the Motive Mobile.
"Oh wow!" I said. "That's just what I need! You are so thoughtful."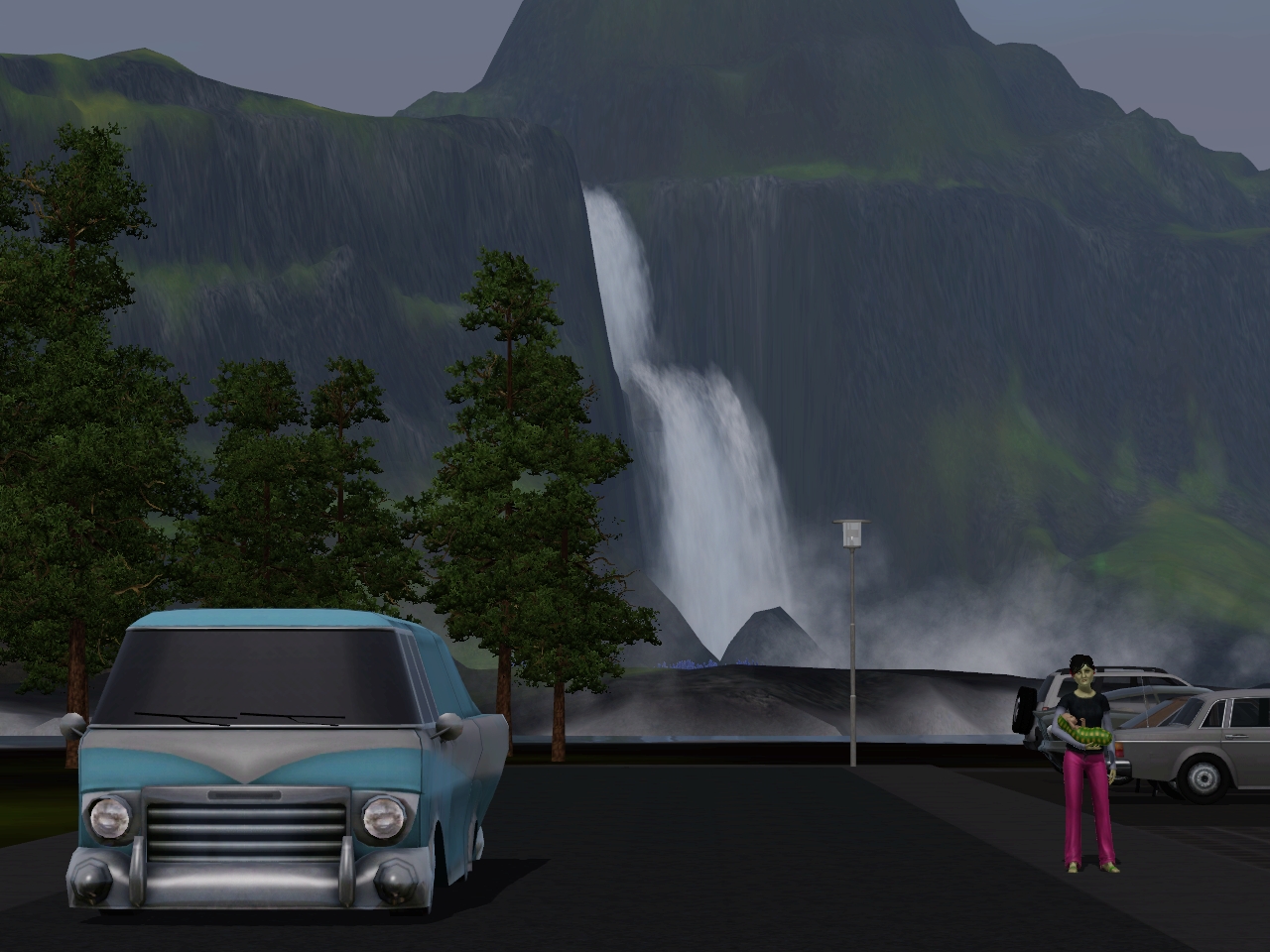 "You kidding?" William said. "This is for me. You can find your own way home."
He drove off and left me, holding his screaming baby, standing at the curb.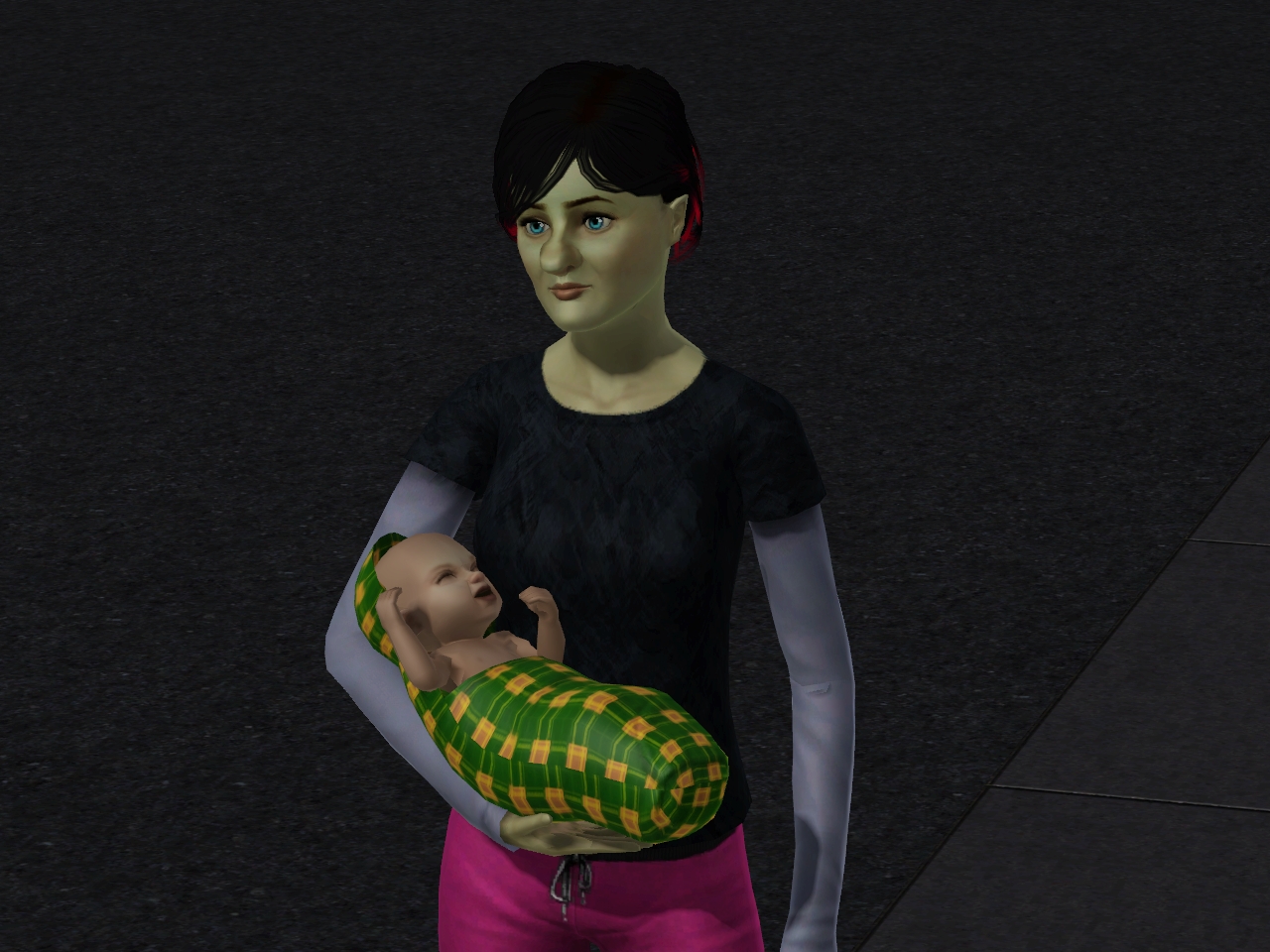 I guess it's time to take a cab home.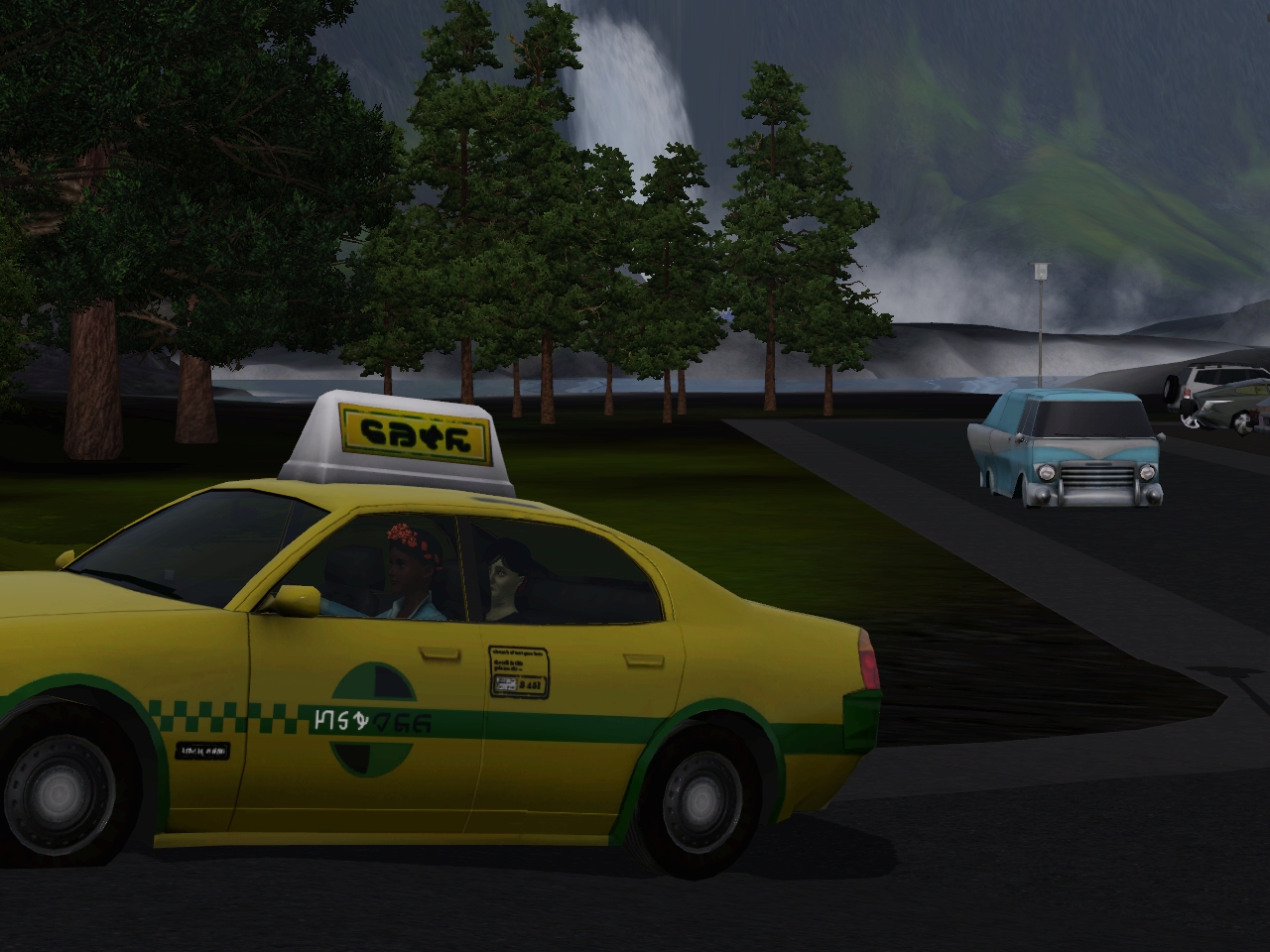 ———–
Births: 9 + 1 = 10
They both wished for a boy, so I helped it along with some apples Erin conjured herself. If they hadn't, though, I would probably have pushed for a boy because Justin is too good a J-name to miss.
I think I'm officially declaring that if I can push baby gender to the names I want to use, I'm just going to do it ;-).
I think Daisy might be my favorite cat for the next cat generation! Her coat is so simple, yet I think all her ancestors are represented.