Generation 1: Allison Wonderland
Cat Person
Childlike
Daredevil
Insane
Supernatural Fan
Favorites: Blue, Cookies, Kid's Music
Lifetime Wish: Firefighter Superhero
Race: Human
Generation 2: Erin Wonderland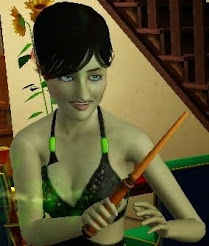 Natural Cook
Perceptive
Insane
Schmoozer
Lifetime Wish: Perfect Mind, Perfect Body
Favorites: Lime Green
Race: Witch
Download Here (.sim file).
As a bonus, here's a copy of Erin with her nose shrunk to more human proportions. The shape hasn't changed — it's still quite a schnozz — but her face is more naturally proportioned.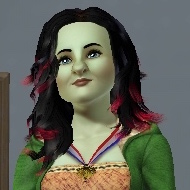 Download Here (.sim file)
Generation 2 Spares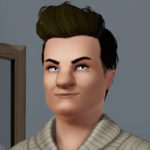 Branden Wonderland (witch)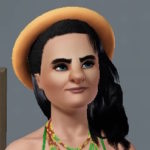 Caitlin Wonderland Ivy (forgot to change her name back) (witch)
Deanne Wonderland (human)
Generation 3: Franklin Wonderland
Avant Garde
Supernatural Fan
Insane
Green Thumb
Excitable
Lifetime Wish: Turn the Town
Favorites: Aqua, O Positive
Race: Vampire Witch
Rather than risk putting a hybrid sim up for download, I have an option of either vampire OR witch. If you have NRaas Hybrid installed, you can add the other race if you like.
Witch HERE (.sim file)
Vampire HERE (.sim file)
Generation 3 Spares
Gideon Wonderland (witch)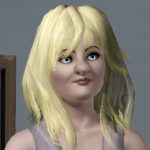 Helen Wonderland (vampire witch — I just saved her as-is with her hybrid status, so I'm not entirely sure how she'll load into your game)