I woke up feeling like a million bucks.
"I have big plans for today," I told Bungle as I munched on the waffles thats someone had kindly left on the counter for me.
Like teaching Justin to poop on his own!
Isn't he so adorable with his toy yeti?
Deanne called. She has a new girlfriend! It's high time. She's been mooning over the last one for ages. Maybe she'll be a bit more fun to be around now. Also less likely to go to jail for stalking.
Helen didn't take the news so well. "Why can't I have a girlfriend? Or a boyfriend? I don't care which."
The dishwasher broke. Again. Mistakes were made, but not by me.
I've had it with broken appliances, especially the kind that can kill you. I decided it was time to get out of the house.
Today is Love Day! We headed to the festival rather than dealing with the dishwasher.
Everyone immediately started having fun. Like Franklin, who got into a huge argument with his dad.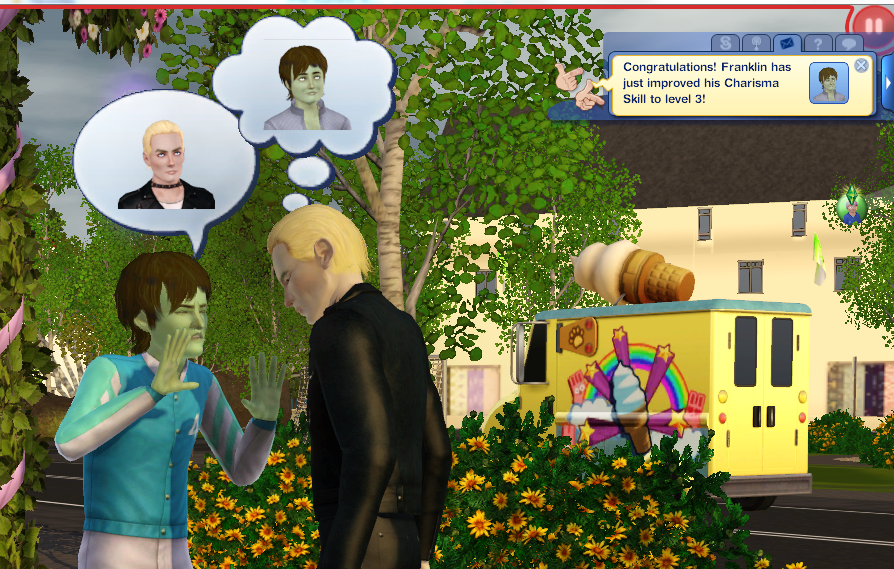 Franklin really seems to have learned a lot from William about how to behave. He's a real chip off the old block.
Irene, ever the studious one, seemed to think that the Love Day Festival was just another place to study.
William hadn't been there long before he started feeling woozy.
"I think I'm going to–" he started to say. Then he fell right over.
And passed out.
I guess it's not such a good thing for vampires go out in the sunlight. I guess I read that in a book.
A reporter from the local paper wrote an article about vampires passing out in the park. Justin cleaned out his noes.
After sunset, William woke up and yelled at the speaker system.
Dang it, I was determined we were going to get something good out of this Love Day if it killed me, and it just might.
"OK everyone!" I shouted. "We're going to have a nice family picture!"
So, of course, it started to hail. OUCH!
And Justin disappeared! After I ran around the park shouting his name, I discovered that he'd been returned home by a "helpful" friend.
I dispatched a babysitter to look after him while I got the rest of the family together to get home.
The babysitter just stood there at the front door. I think he was chatting with his girlfriend or something.
Justin amused himself inside.
Justin's such an independent little squirt.
And full of surprises!
That con man of a babysitter was sure quick to collect his money when we got home. Thanks for nothing, kid.
I think even the cats had a more inspiring Love Day than we did.
Nova's showing her age, but she's still got a lot of spunk.
But at least we made it through the day in one piece. I have a nice picture to show for my efforts.
Even if Justin isn't in it.
———-
Passing Out: 18 + 1 = 19
So…. should a vampire passing out from sun exposure count as passing out? I think I'm going to say yes. I actually didn't realize they passed out from sun exposure. It seems like I'm always running into sparking, smoking vampires hanging out in the park. If they can pass out, that makes their sun aversion a bit more powerful.
Since the heir will probably be a vampire, I think I shall have to invest in the happiness reward that turns you into a sparkly Twilight vamp.
I think I will NOT take away points for the automatic babysitter being called, though. As far as I can tell, the game glitched and reset Justin. Maybe because they were out at the park at night? It wasn't nearly 3am, which I think is when NRaas Overwatch sends abandoned toddlers home. The hail? I can only guess.