I got home as the sun was rising over the waterfall behind our house.
First thing I set out to do when the kids woke up was push the magic button to make their glum funk go away.
Everyone lined up. We were so sick of feeling like crap.
It was so good to see Franklin back to his old self. He even critiqued himself in the mirror.
And approved!
I swung Justin in the air. "Come on kiddo. I promised everyone some fun today, and we're going to have it."
I strapped my little vampire baby into his stroller,
And we all piled into the van.
It was off to the new amusement park of Aurora Skies. If we couldn't have fun here, we just couldn't have fun. Which actually was a possibility.
While the teens stood around at the entrance, trying to figure out what to do next,
I took carried Justin off behind a rollercoaster.
We sat down together in the grass,
and I taught him his last words. "Microscope" is an important word for a toddler, you know?
Franklin's brain almost exploded at all the art to critique. He went from awning to awning, assessing their artistic value.
Irene found the café and turned on the jukebox.
She's always happiest when she's dancing.
Gideon hid in the men's room and practiced asking girls out for dates.
Helen found the game room and started
After Justin and I were done with his vocabulary lesson, we went for a stroll around the park.
Franklin challenged Irene to a basketball dunk-out.
Beside them, Helen was still wrapped up in blasting aliens.
Justin and I were still walking.
Franklin beat Irene. That surprised me when I heard about it. Irene's a way more physical kid than he is. He prefers to stand around and look at things. He was a pretty good sport about it, though.
Justin and I finally made it up to the boardwalk.
Ah, this is what I was looking for.
It was time for Justin's birthday.
All his big brothers and sisters gathered round to cheer. No more toddlers in the house! For real this time.
Justin was just as eager as we were. He leaned down to blow out the candles himself.
Here he goes!
That's my little boy.
Huh. He looks a lot like William. Is that a good thing or a bad thing? I need to think about it.
Then again, he has my eyes. I like that.
The kids abandoned the picnic benches I'd picked out and all went to eat cake in the cafe. Humph.
The proprietress of the cafe, a woman named Jiao, seemed to enjoy watching everyone hanging out. I think she would have preferred it if we didn't bring our own food, though.
I was left with a whole lot of extra slices of cake and a random bystander who wanted to mooch.
I hope she appreciated the cake anyway.
I gave it my own personal touch, shall we say.
The cake moocher wasn't terribly conversational. She finished eating and gave me a quick goodbye before hurrying off.
Turns out she saw Irene at the fortune telling station, and she wanted to see if she could get a free fortune.
Irene gave her a great one.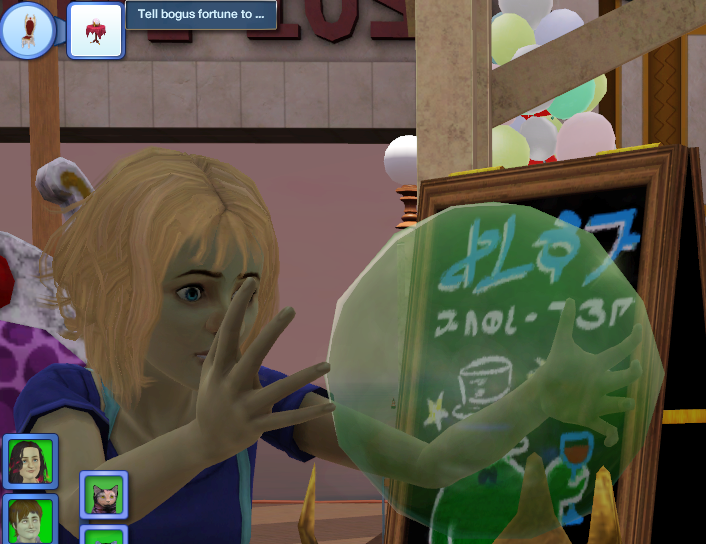 Whatever Irene said, the lady was delighted to hear it.
She was so impressed that she just had to open a book and start reading right then.
Justin finished up his cake and made a beeline to the playground.
Franklin and Helen decided that now would be a great time to do their homework.
My phone rang while I was cleaning up the party plates. It was Randolph, my brother Christof's husband. I think these days, I'm closer to him than I am to my brothers and sisters.
"Thanks for caring," I told him. "I think I'm going to be all right."
Night had fallen. Franklin lingered by the cafe, watching the proprietress.
She really was unique. Perhaps beautiful? Could it be…
Ewww.
Not at all.
Good thing she never noticed he was watching her.
Helen tried her hand at telling her own fortune.
She wasn't thrilled with the results.

I wasn't going to leave without trying out the roller coaster. Seemed like I ought to be able to get *one* of my creature of the night children to be brave enough to go with me. I finally guilted Franklin into it.
We're upside down!
Wait? Where's the track?
I can see for miles!
That's a long way down….
Wahoo!
Not again!
Eeeeee!
Glub glub…!
*Splutter* Were we supposed to be underwater??
That is NOT a shark! Right?
Right??
Wow. I didn't expect the ride would actually go under the water. They spare no thrill on these rides! Woo!
While they waited for us, Helen made some ice cream.
Everyone at the park crowded in to get some.
Especially some town girl who wearing no pants, who thought Irene was really interesting.
Irene tried to ignore her.
But she just stood there, in front of the ice cream maker, staring.
And giggling.
This was about the time I ought to get all the kids out of the park. It was approaching midnight, and clearly the weirdos were out in force.
Justin wouldn't hear of it, though. I was going to have to haul him bodily off the playground.
So instead, I just went home without them.
Good thing too. When I got home, I found a naked guy in the hot tub!
Get a load of that!
Bwahaha! He's so wet and pruny!
Naked guy! Just the thing to cheer me up!
I speed dialed the kids. "You have got to come home and see this!"
THAT got them to come home.
———
So, Justin is a child! I have one more post, and then heir poll! He managed to get two skills in all the melodrama. Erin potty trained him, and the playpen gave him most of his talking skill. Erin finished it up at the amusement park. I didn't realize until now that the playpen fills hunger and sleep motives. That seems completely unreasonable. I've downloaded a mod to stop that.
Justin didn't do too badly with two skills, though. He rolled Schmoozer. He's now an Insane, Hydrophobic Schmoozer. Genetically, he's all right. Not the perfect afterthought kid that Erin was, but he's not a clone either. William is dominant, but the eye shape and eyebrows at the very least are Erin's. He has Hetal's gray eyes, and I think he might actually have Allison's skintone. If you remove the vampire pallor, his skin is really rosy.
This post was mostly pic-spam from the Boardwalk venue. I picked it up a while back, but Avalon, where the Samples live, doesn't have a lot this large. This was my first chance to play with it, and I just couldn't stop taking pictures.
The roller coaster has great animations, but the little car goes through at about walking speed. Sooo slow. Better for pictures than gameplay, I think.
It was fun to just follow everyone around with a camera.
Unfortunately, the game didn't really push anyone else to the park. Not sure why. I'll have to check the visitors allowed settings. The two folks wandering around were both role sims. This was the proprietress of the Showtime stage I added, which I may or may not keep.
Look at this! I'm pretty sure she was bred from Charles! Either that or Charles's immaculate Chinese love child Charlotte, who I saved to the bin to load into the hometown when I found her on vacation. She's clearly Charles, even if you don't look at the skin. But that silver skintone should NOT be installed in this game. I may have to do another clean folder install to get rid of stuff that got accidentally installed with sims Sims3Packs. Argh.
Still, pretty cool to see a bit of Charles in the Wonderland game!
And then there's Jiao Hatfield. Isn't she amazing? Isn't her name so delightfully Sims?
I have no idea what the china doll skintone is. It looks like it goes from powder white all the way to powder white. Is that also some unintentional CC?
Whatever it is, I love it. She really looks like a china doll. And I actually think she might have been bred from one of my simselves. Wow. Not so distinct as Charles up there, but eyes and face shape look familiar.
And… she's a genie!!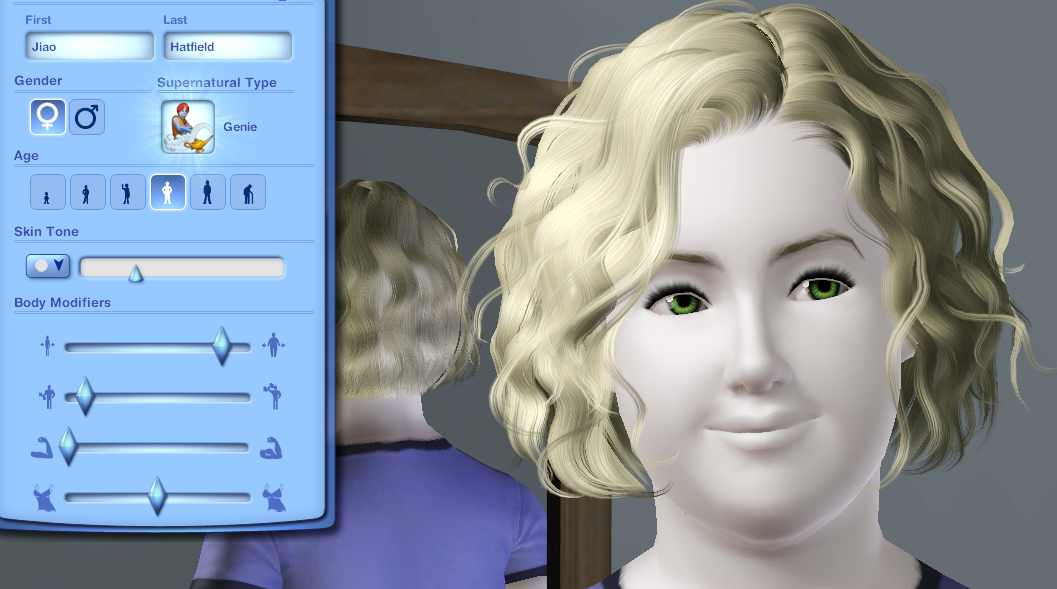 I've saved her to the bin. She WILL marry into this ISBI. The question is only when.