The boys headed home after school, but Irene had been up for thirty-six hours on coffee alone, and she was ready for a new challenge.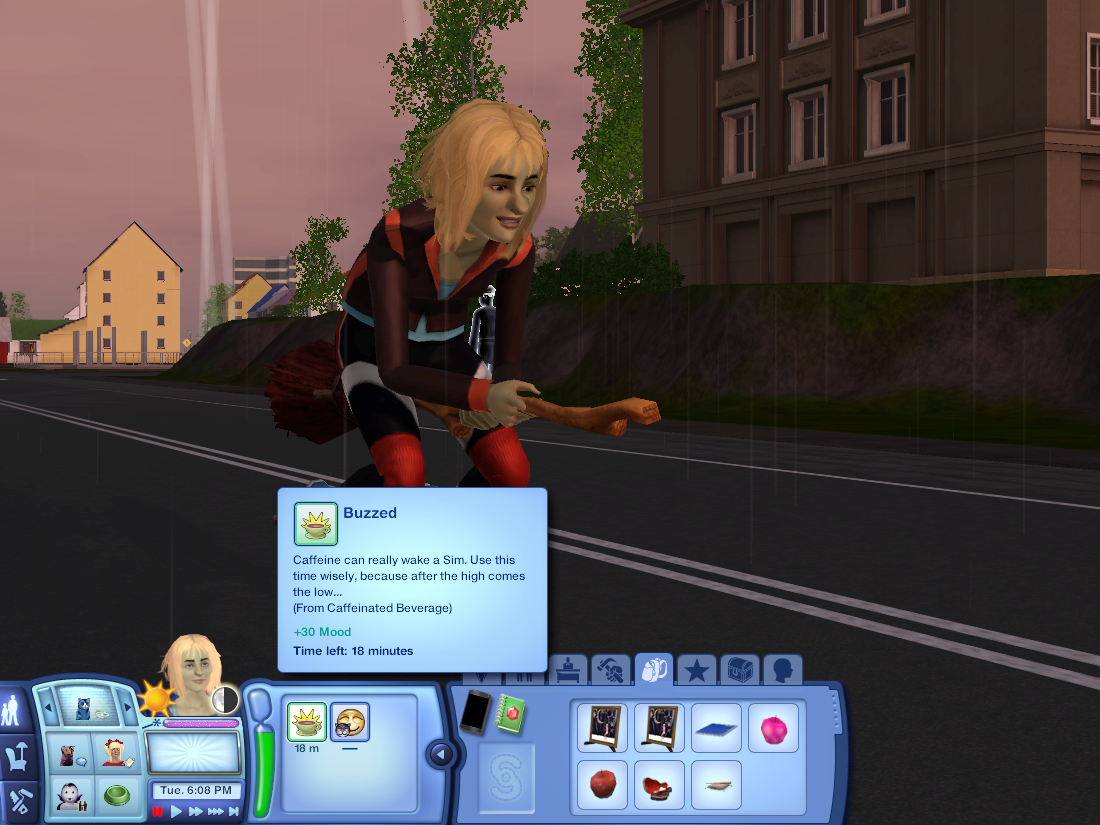 She decided to shadow her Aunt Caitlin for a school report on… whatever it is Caitlin does at her office building.
Back at home, we had some birthdays to celebrate for the littlest members of our family.
Goofy grew up!
Also Daisy, though she did it more quietly.
Irene really enjoyed working with Caitlin.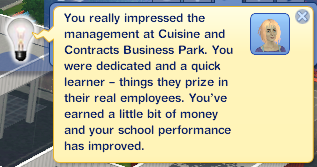 Until her coffee buzz finally crashed.
And she got a caffeine headache.
So instead of going home to get some sleep, she decided to show off some of her magic for the pantsless paparazzi.
When she didn't come home for dinner, I had to call her. "This is your mother. Do you know where my daughter is?"
She took the hint and headed home.
The paparazzi was a little slow on the trigger.
But apparently, she made her deadline by making up crap. Poor Irene.

After a good sleep, Justin came downstairs dressed to the nines
so he could pick up his toys. What a nice boy. Maybe he's the secret angel who mopped up all the water from the broken washing machine. I never did figure out who did that.
I went hunting for my wrench to go work on that blasted dishwasher.
Bungle found me. "Whatcha doin'?" he asked.
"The same thing I always do," I told him bitterly. "Holding this family together with chewing gum and bailing wire. I'm starting to wonder if it's worth it."
Bungle's goggle eyes rolled with surprise. "Why would you say that?" he asked.
"Well, it's not like I've been able to work toward my big goals in life," I said. "I'll never solve all the cases I wanted to solve. The kids just slow me down too much."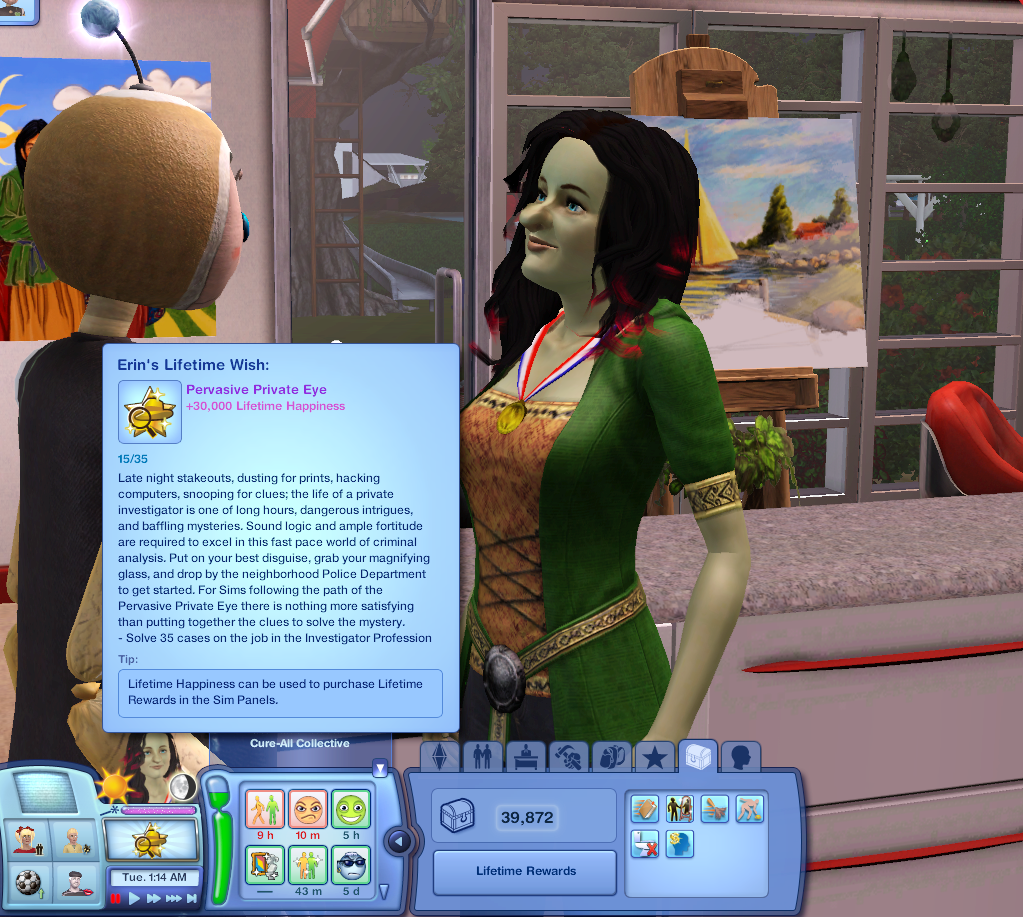 Bungle thought about it. "I suppose so, but you're at the top of your profession. Is solving a lot more cases really what you want out of life?"
I thought about it. "You know, I guess I've really been wanting to work out. You know, get in shape, be stronger and faster. I spend a lot of time hitting the books, and it makes me feel sluggish."
"Then maybe the problem is that you're dreaming of the wrong thing!"
Everything become so much clearer! "You might be right about something for the first time in your life!" I said to Bungle. "I knew you were my best friend for a reason. Thanks!"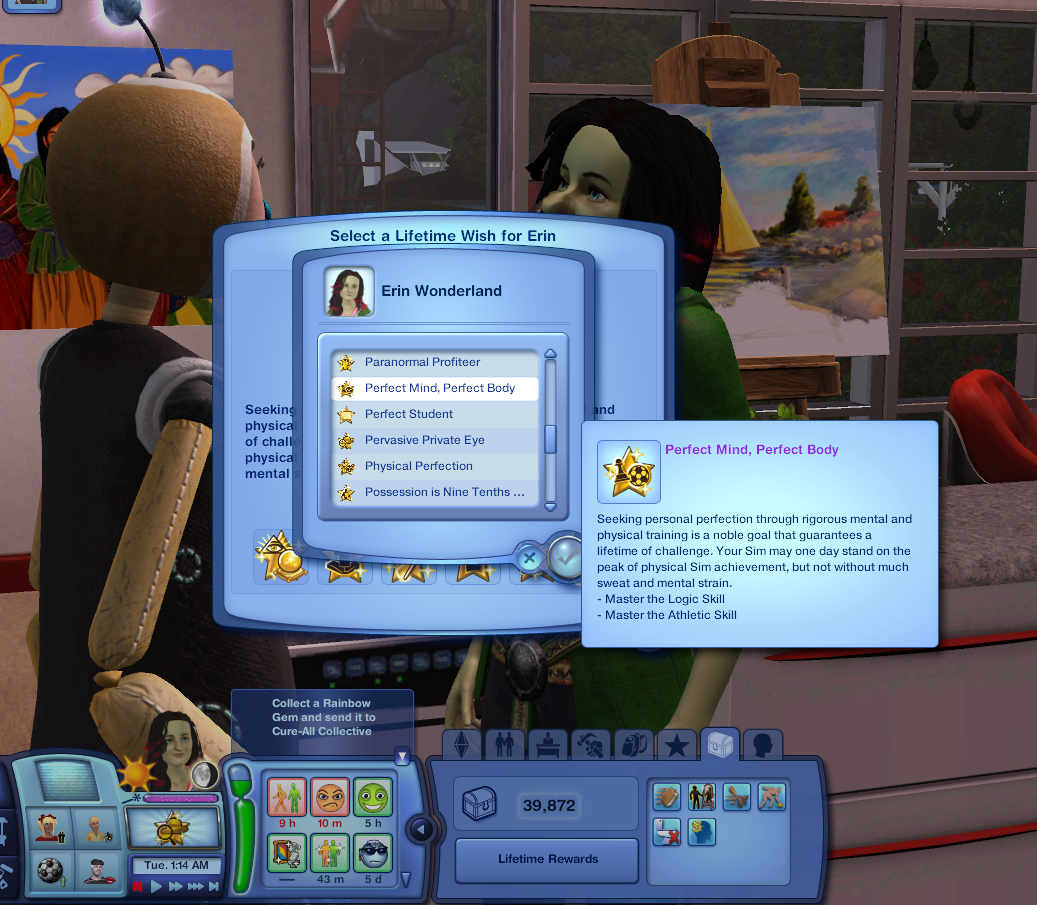 "Is it the migraine, or is Mom talking to thin air?" Irene asked.
"If you ask me, she's a little bit looony," Gideon said. My family so supportive.
Wait a minute, maybe I did have a screw loose! I don't have to fix this blasted dishwasher again! I have magic!
Take that!
After questioning my sanity, Irene decided to go to bed to sleep off her headache.
But she was barely asleep when she jumped up
and fell out of bed. Maybe next time she won't try to take the chemical way out and sleep more than once in two days.
Gideon was a good boy. He looked over his sleeping brother and did his homework.
Helen was out playing hoops while her siblings screwed up their bedtime.
And she's gotten pretty good at it, I have to say. I think those swim flippers give her extra lift.
I went out to check on her. "Hey, you're shoving that ball through the hoop in a pretty angry way. Are you all right?"
"Yeah, Mom. You're giving all the attention to the screwups. I didn't even show up in the last chapter because I actually went to bed!"
"I'm sorry, kiddo," I said. "Sometimes it's really hard to be the responsible one. I really appreciate that you didn't give me any trouble today. And now it's bedtime again, so why don't you head off and get some rest?"
"Are you kidding, Mom!" Helen cried. "You can't treat me like a child! I'm not going to do what you say!"
Then she went to bed.
Sometimes I think the best way to get a kid to be responsible is to treat them like a screwup.
And then the house was quiet.
Everyone was sleeping… somewhere. Some of them even in their own beds.
It was a beautiful moment.
———-
OK, should I could Irene's fail? She literally climbed into her bed, got under the covers, and started sleeping, then canceled the action so she could get out of bed and pass out. GAH.
I guess I will, because Sims.
Passing Out: 22 + 1 = 23
I'd never seen the twirly-finger-by-the-ear thing that sims do when they walk by someone talking to her IF. So funny, especially in this house!
Helen was indeed the only kid who slept the previous night, but she still got in trouble — maybe from heading to school a little late? At any rate, that scene was Erin letting her off the hook. Then Erin suggested she go to bed. Helen refused, and they got a negative relationship. Then Helen went to bed.