I was running at vampire speed through the graveyard, like you do, when my razor-sharp vampire senses caught a whiff of something I'd never smelled before.
It was like nirvana — red blood and green growing things. I came to a screeching halt in the middle of the graveyard path. I had to find the source of that scent.
And there he was.
Why didn't I look more closely at this guy before?
"Hey there!" I called. "Evan Clark, isn't it? Didn't you stalk my sister in high school or something?"
"Heck yeah!" Evan replied. "That frigid chick would never call me back! But I'm over it."
"You know," I said, "I really have to know something about you?"
"What's that?" he asked.
I engaged the mojo.
And it finally worked! About time!
I knew I had it in me. I just needed a bit of practice.

"I need to know if you taste half as good as you smell," I said.
Evan giggled and held out his arm. I proceeded with my investigation.
He let out a meep when I bit him. It was kind of adorable.
"Urgle," Evan said.
"You know, you really do taste amazing," I said as I licked the last blood off my lips. "I didn't think you could combine the flavors of blood and fresh-grown produce, but I was wrong. I bet you're great for vegetarian vampires."
"Urr," Evan said. "Actually…. that was kind of hot."
Meanwhile, Mom got an invitation to a party.
She headed over to his house.
It was a pretty nice place. She couldn't find Adam, but his disembodied voice welcomed her to the party.

Jakob Ingberg met her at the door.
"Nice to see you again," he said.
"I think what I need is some exercise," Mom said, so she went upstairs to the workout room."
Meanwhile meanwhile, Helen saw some strange lights in the back yard.
She ran outside to investigate.
She says she doesn't remember much of what happened after that, but she has the strangest feeling of being probed.
Meanwhile meanwhile meanwhile, Gideon celebreated his birthday.
I'm pretty sure we should have thrown him a party or something, but we were all really busy you see.
It's a good thing that Khalid was there to celebrate with him.
He aged into that nose pretty well, I have to say.
At the party, Adam Birch was still nowhere to be found. In fact, nobody was at the party except Jakob. Erin was starting to believe it was all a setup.
She was all right with it, though.
"Let's just forget the part where you left me to drown in the Apple-Svard's pool," she said.
He wiggled his eyebrow at her. "I think we could make a fresh start," he said.
"I think we need to cleanse this relationship of any bad karma first," Mom said.
"Wait, what?" Jacob said.
"What are you doing?"
"Oh, hey. That wasn't too bad! I feel great!"
"What did I tell you?" Mom said. "I know what I'm doing."
Gideon celebrated his birthday by shooting hoops by himself in the school yard after midnight.
He seemed to have more fun doing that than he has at most family parties. I guess I can't blame him.
At home, the lights returned.
Helen said she vaguely remembers being zapped to the street corner in front of our house. Plus, she really hates aliens now.
"Hey! What are you doing out after curfew?" a cop shouted from down the street. "You better come with me. I'll take you home."
"Wait, but I live here!" Helen protested.
"Doesn't matter. You were two feet out of your yard. That's a curfew violation."
I think Gideon took a little too much pleasure in shouting at her now that he's an adult.
Adam's "party" ended at about 3am. Mom must have decided that Adam's house was more fun than her home because she played hackey-sack on his front porch until dawn.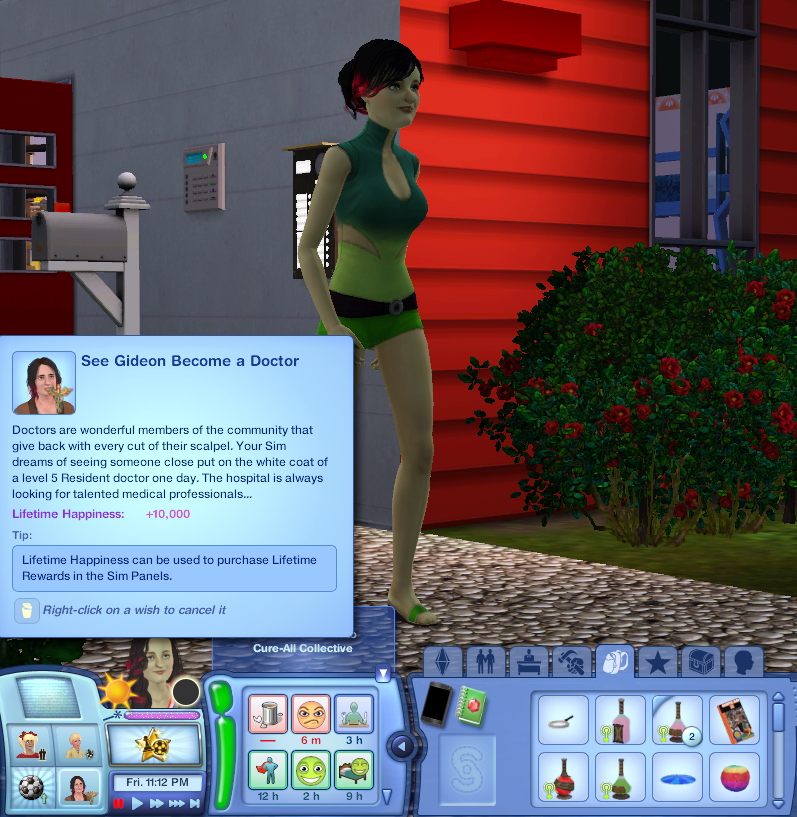 Me? I was still at the graveyard, caught in conversation with Evan.
We had so much in common.

Even if he is kind of a jerk.
And, if you think about it, not at all attractive.
Yet he had a certain something I couldn't put my finger on.
By the end of the night, I had him wrapped around my finger with my charming dark humor.
---
I think mate options are between Evan here and Jiao Hatfield. Franklin might not find him attractive, but I certainly do, and Franklin's preferences aren't terrible relevant to his mate choice.